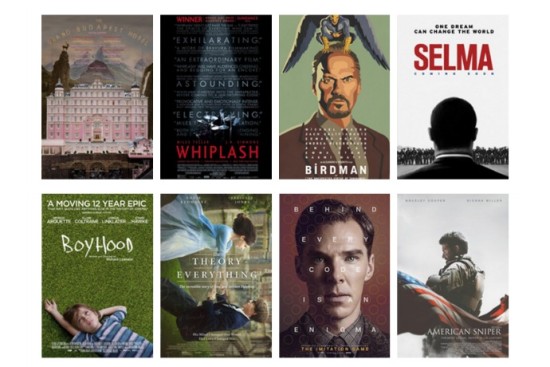 If you're like a lot of people, you probably haven't seen all the movies nominated for Oscars, let alone even the nominees for Best Picture.
And while some of you might rush out and see a film after it's one an Oscar, a lot of us might pick the film that we think should have won or of one of the films that lost that lost because we're a fan of a particular actor or director.
To make things easy, here's a list of trailers for ALL the nominees for best film on single page. And if you see something you like, click on the Fandango banner to buy tickets. Enjoy!
The Theory Of Everything
Stars:  Eddie Redmayne, Felicity Jones, Tom Prior
Directed by: James Marsh
Selma
Stars: David Oyelowo, Carmen Ejogo, Tim Roth
Directed by: Ava DuVernay
American Sniper
Stars: Bradley Cooper, Sienna Miller
Directed by: Clint Eastwood
Birdman or (The Unexpected Virtue of Ignorance)
Stars: Michael Keaton, Edward Norton
Directed by: Alejandro G. Iñárritu
Boyhood
Boyhood
Stars: Ethan Hawke, Patricia Arquette, Ellar Coltrane
Directed by: Richard Linklater

The Imitation Game
Stars: Benedict Cumberbatch, Keira Knightley
Directed by: Morten Tyldum

The Grand Budapest Hotel
Stars: Ralph Fiennes, F. Murray Abraham, Mathieu Amalric
Directed by: Wes Anderson