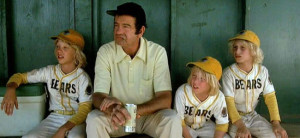 "The Bad News Bears," "Major League" and "The Sandlot" all followed this formula, and all three flicks are beloved by fans of the games. The movies also happen to share another similarity … they all debuted April 7.
"The Bad News Bears" debuted on this day in 1976. pic.twitter.com/JaNnNuuk91

— Sporting News MLB (@SN_Baseball) April 7, 2015
A quick check of IMDb.com reveals that this is a true fact!
All three movies made their theatrical debuts April 7. "The Bad News Bears" came out in 1976, "Major League was released in 1989 and "The Sandlot" hit theaters in 1993. Thanks to Sporting News editor Justin McGuire, we now have this knowledge. Major nod of the cap to Mr. McGuire.
We here at The Stew are big fans of these movies, and we can prove it. Check out our retrospectives on "The Sandlot" and "Major League." It's also worth noting that the "Bad News Bears" received their own baseball cards a couple years ago.
Naturally, any discussion of the three films will lead to a debate about which is the best. Personally, I'll take "Major League" in the top spot, followed by "The Sandlot." Sorry, but "The Bad News Bears" falls to third in this scenario. That's probably a result of me growing up with the first two films, though.
Am I underrating a classic because I'm a young whippersnapper? Probably! Let us know how you would rank these three films in the comments, on Twitter or on Facebook.
This article originally appeared on Yahoo! Sports