The Aloha bashers are out in force this week, taking shots at the choice of Emma Stone to play Allison Ng, a mixed race (one-quarter Chinese and one-quarter Hawaiian) character, despite being convincingly Caucasian, and partly because of its poor reviews. But none of the reviews seem to touch on Aloha's Achilles heel, which we will get to in a minute.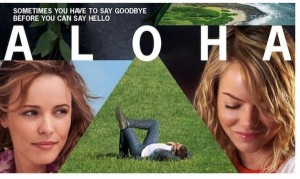 The racism row even has critics taking shots at the title, which is said to be not just cheesy, but an oversimplification of the layered cultural nuances of the word – kind of like explaining to your waiter in Rome that the pizza is much better in New York.
This still doesn't explain the bottom line fault with the film.
Yes, you are correct – the fact that Alec Baldwin plays the angry General Dixon as if he were phoning in a performance for Saturday Night Live (buffoon-like at best) or that Bill Murray launches into one of his addled metaphors about the meaning of life – just look at the script. It's so thrown together, they forgot to give General Dixon a first name. Murray plays Carson Welch and Rachel McAdams plays Tracey Woodside. Was this script actually written in Connecticut or is this all just by accident?
Of course, part of the loud dismay about Stone cast as a racially mixed character comes from the point that the film is not just white – it is very white. This hints at the true problem with the film.
It's easy to pick up the roar across the Internet. "I'm not buying Emma Stone as an Asian American," wrote Entertainment Weekly. And many more critics take it from there. Rolling Stone critic Peter Travers (Aloha's director Cameron Crowe is a former Rolling Stone editor) points out that not only is the film being accused of whitewashing native Hawaiians, but Crowe is more intent (this time on purpose) of bashing the good, old-fashioned military industrial complex. That might be well and good, but Hawaii since way before Pearl Harbor Day, has long been the rock-solid bastion of our good, old-fashion military industrial complex, which has been the source of many a livelihood there for decades.
So, now Crowe really is going to Rome to complain about the pizza. That's pretty poor sportsmanship, especially if you know the bottom line to why this movie is quickly becoming the must-miss film of the year.
OK, the script is hacked, the acting is hacked and the plot is to choke on — defense contractor Brian Gilcrest ("Mr. Sexy-Pants," screams General Dixon) returns to Hawaii and seeks closure with old flame, Woodside, to take up with the perky new charmer Ag. But what's the first mistake the film makes?
Who guessed: It takes place in Hawaii? If so, you're right. Forget the script, the acting, the casting, the names from Connecticut. Anybody who's anybody in Hollywood knows that if you want to get a stinker off the ground, you announce that it will be filmed in Hawaii. The director might even say "We want you to be tanned as possible before filming begins."
Take it from MovieSpoon. Bradley Cooper, Rachel McAdams, Emma Stone, Alec Baldwin, Bill Murray didn't sign on here because they loved the script. They signed on because Crowe offered them a tax write-off trip to Hawaii. I mean, what would you do? Hey, I got this script for a movie. It's about 100 people throwing rocks at your head, but we're going to film it in Hawaii.
Sure, where do I sign up?