W
e're all anxiously awaiting any news we can get on 
Avengers: Infinity War
. But those who were lucky enough to attend D23 Expo over the weekend got a sneak peek at the new trailer!
Unfortunately, the Avengers: Infinity War trailer is on lock down and won't be hitting the web anytime soon. In fact, the movie doesn't come out until May 4, 2018. That means the trailer will probably not be released until early 2018. A teaser may come sooner, but trailers typically only make their debut a few months before the actual release.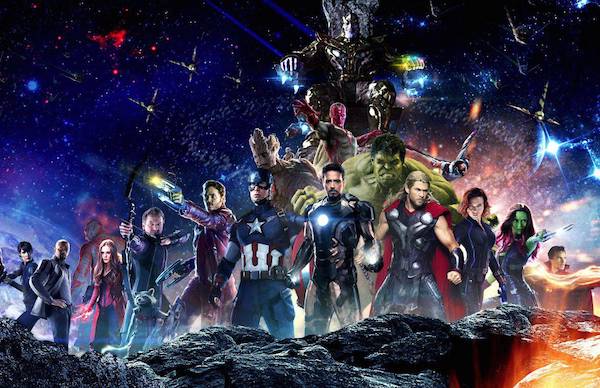 However, if you just can't wait that long, a reporter over at EpicStream gave a detailed account of what happens in the Avengers: Infinity War trailer. Here's what he wrote:
The trailer began with about a two-minute intro of footage from the first several films, focusing on the Infinity Stones revealed so far. Then the Marvel Studios logo before the new stuff.

The footage opens up with a wounded Thor. He's wearing the armor he wore in Thor: Ragnarok.

The Guardians of the Galaxy are flying through space. Mantis says, "We are arriving." Star-Lord tells them, "Put on your mean faces." There has been destruction, and then a body hits their ship. "Get it away," Rocket says. The body turns out to be Thor. Then Mantis wakes him up and Thor jumps up and asks "Who the hell are you guys?"

Then we see Guardians with Thor, and there's a lot of destruction again.

In Earth, Scarlet Witch is moving around some cars and a female voiceover ays, "Deaht follows him like a shadow."

Loki appears and shows the Tesseract to someone who's taller than him.

SO many heroes!

In Queens, the hairs on Peter Parker's arm raises up (Spider-Sense maybe?). Parker turns around in fear and a ship is seen flying toward a planet (probably Earth).

"We have one advantage. He's coming to us," Tony Stark says. As the ship crashes, several characters such as Iron Man, Mantis Star-Lord, Doctor Strange, and a few others in shock.

We hear a voice saying, "Fun really isn't something one considers when balancing the universe," and Gamora turns around in horror  "But this puts a smile on my face." Star-Lord says, "Oh no." Then out of the black hole, Thanos appears.

There's a fight, and Doctor Strange is making platforms and Star-Lord is jumping off them, shooting his guns.

Spider-Man is wearing the new suit revealed at the end of Homecoming. He's jumping through the air.

There's a shot of vision behind bars.

We see a Wakandan army that includes Bucky.

Captain America appears with a full beard.

Black Widow is seen with blonde hair.

Iron Man has a sleek armor, and someone is using the Hulkbuster armor. There's a big montage of shots.

Peter Parker is hurt on the ground. "I'm sorry Tony," he says with Iron Man holding his head.

Thanos grabs and squeezes Thor's head.

Thanos uses the Infinity Gauntlet on his hand, to unleash the power of two stones to grab a moon and drag it toward whatever planet everyone is on. Debris begin to fly, and cut to title card.
Sounds exciting!
–MovieSpoon Staff