I
t was
Beauty and the Beast
versus the Other Beast vying for attention at U.S. theaters over the weekend and it turned out to be no contest, the romantic feature staring Emma Watson earning $170 million from Friday through Sunday, earning high points from critics along the way.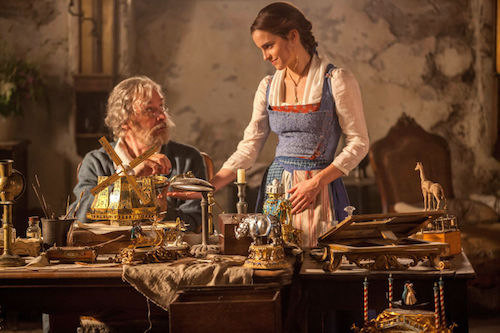 The Other Beast, the oversized ape from Skull Island (Kong: Skull Island) earned $28.8 million over the weekend, despite a bankable, all-star cast lead by work-a-day stars Samuel L. Jackson and John Goodman.
However, the beast that really roared was the modern fantasy creature played by Dan Stevens in the live action update of Disney's 1991 animation Beauty and the Beast – a timeless French fable done as a musical featuring once upon a time child star Emma Watson as Belle in a role that calls for voice and her famously innocent good looks. The update roared into No. 7 on the all-time highest grossing films off all time for the first weekend out of release, with revenues coming just short of Iron Man 3 ($174.1 million in its May 2013 release).
It is telling that this weekend's success is certainly the fastest-grossing romance of all time and the fastest grossing musical. Above Iron Man 3 is Captain America: Civil War ($179.1 million, May 2016), Avengers: Age of Ultron ($191.2 million, May 2015), The Avengers ($207.4 million, May 2012), Jurassic World ($208.8 million, June 2015) and Star Wars: Episode VII, The Force Awakens ($247.9 million, December 2015).
In fact, you have to go all the way down to No. 38 on the all-time fastest grossing films to another Disney release to find another musical, which would be The Jungle Book that earned $103.2 million in its first weekend, although it could barely be called a musical at all, what with Bill Murray as the bear Baloo talking his way through "The Bear Necessities," and Christopher Walken crooning "I Wanna Be Like You," as King Louie the ape. Technically one and a half songs doesn't qualify as a musical.
There are also none too many pure girl meets boy (or beast) movies in the top 100 list either, unless you count No. 65, Fifty Shades of Gray ($85.1 million, February 2015) or No. 81, Fantastic Beasts and Where to Find Them ($74.4 million, November 2016).
Read more: