S
omething
Strange
is happening in New York City.
Benedict Cumberbatch
, who plays
Doctor Strange
in the upcoming Marvel film of the same name, made quite an impression as he was photographed on and off the set in full costume this weekend.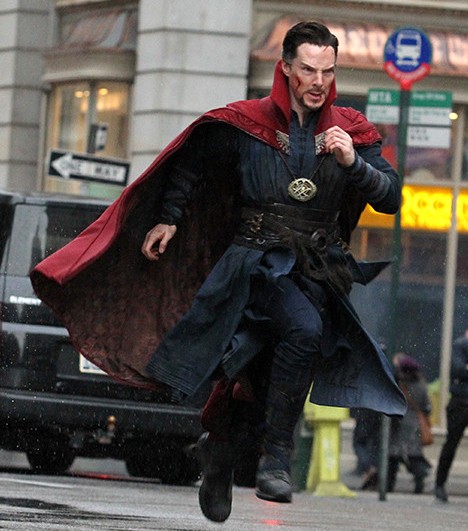 A new release for the Marvel cinematic universe, Doctor Strange tells the story of Doctor Stephen Strange. Strange is a successful surgeon until a car accident shatters his hands, damaging them too badly for him to continue a medical career. In his woe, Strange comes into contact with a sorcerer who teaches him to use magic to fight evil.
Rumors flew when Marvel first announced they would be making a Doctor Strange film that Cumberbatch would be playing the mysterious crimefighter, but it wasn't officially confirmed until about a year ago.
While filming in New York City, Cumberbatch showcased the blue robe, red cape, and goatee of the Marvel comic hero. The Doctor seems to have been fighting some baddies that day as well–Cumberbatch had fake scratches and blood across his face.
Despite having a grueling day fighting foes, the talented thespian took the time to surprise comic book fans by popping into a local comic book store. He took some goofy photos comparing his look to that of comic book Dr. Strange, and even posed with some store workers.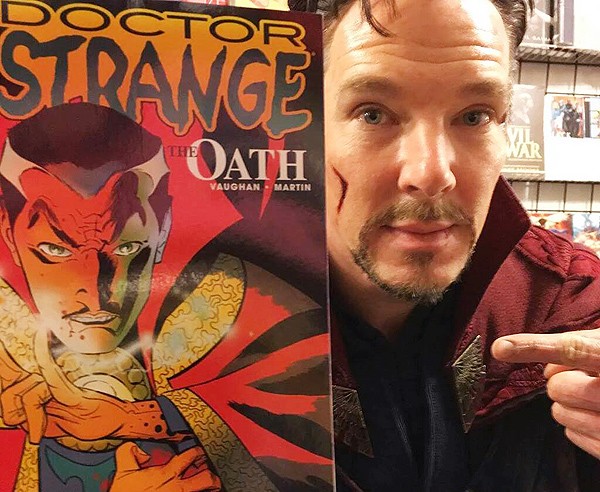 There were only a handful of people lucky enough to be comic shopping that day, but store manager Rene Rosa said, "Everyone went crazy when they saw him. One lady screamed at her boyfriend, 'Did you see what just happened?' But he was in the back looking at comics, not paying attention."
A security camera grabbed some of Cumberbatch's Strange interactions:
The flick is scheduled to hit theaters November 4, 2016, and will also star
Rachel McAdams
and
Tilda Swinton
.
–MovieSpoon Staff