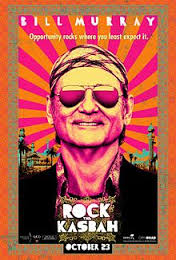 It's a bit of a puzzle to figure out who was the target audience for the latest Bill Murray feature, Rock the Kasbah, which was given an 8 percent approval rating by Rotten Tomatoes and took in less than $2 million in ticket sales in the combined audiences of the United States and Canada.
My first complaint – besides the simple fact that it is a pandering piece of work – revolves around the concept of Bill Murray figuring out what he should do now that he is 65 and his best years in comedy are behind him.
His last two attempts have been efforts in which he continues the same shtick that worked for him when he was younger. In St. Vincent, with Melisa McCarthy, he played an old timer still clinging to his drinks and his pot, as a ne'er-do-well neighbor who was irresistibly incorrigible – in other words, the same old Bill Murray. In Rock the Kasbah, Murray again tries to cash in on his ne'er-do-well persona as a hip, but aging music manager, which allowed the script writers to drop as many references to famous rocker as they could.
Does Hollywood get it yet? Murray's schtick always cashed in on the point that he isn't a good actor; he just knew how to compensate for that. On the surface, Murray was always insincere, which meant he could be a ham instead of a talent. But now the talent Gods are calling and he hasn't got much left.
Of course, this same demon has also exposed both Will Farrell and Adam Sandler, two other Saturday Night Live veterans, for their collective lack of acting chops. Sandler's love me, even though I'm a stoner, routine, has run its course. Meanwhile, I could never tolerate Farrell long enough to understand his shtick, except for very loud and demanding. What else has he got? Don't ask me.
No question, the men from Saturday Night Live have had a far better run than the women. Dan Aykroyd, Bill Murray and Eddie Murphy have had numerous high-rolling successes in Hollywood. (Notice, I don't include Steve Martin, who was a frequent guest, but never a cast member of Saturday Night Live.) In addition, Chris Farley, Dave Spade, and Mike Myers, among others, had sporadic success on the big screen.
The women from SNL who have made it in Hollywood include Kristin Wiig, who is finding dramatic and comedic work in California, Tina Fey, who also a versatile film star, and who can be Maya Rudolph, who can be silly and serious, as well.
But IMDb's list of the top 20 female stars from SNL show few others with any noteworthy success on the big screen. Jane Curtin has had a stellar career, but most if it has been in television – Third Rock From The Sun was one of her follow ups. Julia Louis-Dreyfus has also asserted herself, but mostly on the show Seinfeld. Still, she has notched nominal success in Hollywood with Fandango listing her in nine feature films – not many compared to 25 for Chevy Chase, 27 for Eddie Murphy, 45 for Will Farrell, 46 for Dan Aykroyd, 50 for Adam Sandler and 53 for Bill Murray.
That said, many are saying that Sandler can no longer find a job; his popularity has run its course. Will Farrell shows no indication of slowing down, although shameless defines most of his career. Murray and Aykroyd – what about getting together again? Lastly, Eddie Murphy, who is only in his 50s and is listed as the fourth highest grossing actor of all time. Yes, finding the right role is hard for him, too, but give it a go, Mr. Murphy. You've got years of options ahead of you. Certainly, we need you now, as much as we ever did.