As the first big superhero movie of 2018, it's no surprise that Black Panther would end up #1 at the weekend box office. What is a surprise, however, is how much it made. The Marvel film, directed by Ryan Coogler with the title role reprised by Chadwick Boseman, brought in $192 million over the weekend. That is an astonishing amount for any superhero film, let alone one with a mostly black cast. Topping off all this good news is that the movie is very good, rated in the high 90s on Rotten Tomatoes. Needless to say, it's going to stick around for quite some time.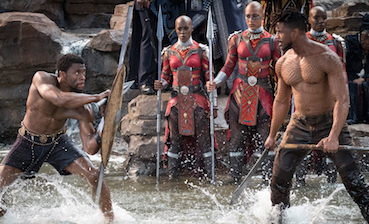 The two other new films this week didn't fare very well. Early Man, the latest claymation feature film from the famed Aardman Animation studio, debuted at #7 with a gross of $3.1 million. Not a very strong opening, even when considering the roughly 2,400 theaters where it was released. Further down the top 10 is Samson, a religious epic from the religious studio of Pure Flix, debuting at #10 with a gross of $1.9 million from roughly 1,200 theaters. Again, not a very strong opening, even for Pure Flix with their small amount of marketing and a highly devoted religious audience that can usually be counted on to boost a gross.
The rest of the films took expected dips. Fifty Shades Freed, having enjoyed the #1 top slot during the weekend before Valentine's Day, lost its appeal and received a 51% tumble down to $16.9 million for the weekend, placing it at #3 with a total domestic gross of $76.1 million. Just above it, no surprise, is Peter Rabbit as the only new family out there, grossing $17.2 million to bring its domestic total up to $48.2 million. Refusing to budge from #4 is Jumanji: Welcome to the Jungle, determined to stay in the top 10 with another $7.9 million gross, beefing up its domestic total to $377 million. Chances are it might have a shot at cracking $400 million if it has legs this strong.
Read the full top 10 below:
Black Panther ($192,023,000)
Peter Rabbit ($17,250,000)
Fifty Shades Freed ($16,940,000)
Jumanji: Welcome to the Jungle ($7,945,000)
The 15:17 to Paris ($7,685,000)
The Greatest Showman ($5,100,000)
Early Man ($3,150,000)
Maze Runner: The Death Cure ($2,525,000)
Winchester ($2,230,000)
Samson ($1,972,000)
Next weekend will be another victory for Black Panther, without question. The superhero film will be going up against the likes of the Jason Bateman starring dark comedy Game Night and the Alex Garland directed hard sci-fi film Annihilation, starring Natalie Portman. So get used to Black Panther in the top 10; he's here to stay.