Tom Cruise
vehicle
Mission Impossible: Rogue Nation
, burst out of the gate over its opening weekend, clobbering the competition in box off receipts, according to film statistic Web site Rentrak.
The high-speed spy thriller was praised by critics and gobbled up by fans with theaters taking in $56 million in the domestic market and $121 million worldwide from Thursday through Sunday. It was also given a 93 percent positive raring on Rotten Tomatoes and an "A-" rating on CinemaScore.
The list of accolades seemed endless and sometimes ironic. Fans and critics alike praised the opening action sequence, which features the Cruise character Ethan Hunt hanging from a jet plane with his bare hands, an improved script, the simple plot line, the supporting characters played by Simon Pegg, Jeremy Renner, and Ving Rhames and a breakout performance by Swedish actress Rebecca Ferguson, who plays Ilsa Faust, a sometimes good, sometimes not so good, friend/foe of Ethan Hunt's.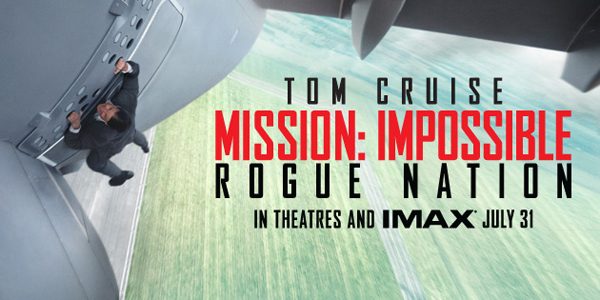 Ferguson, 31, was praised for keeping up with Cruise, who is 53 and does some of his own stunts. As such, Ferguson also performed some of her stunts. Leggy and seemingly fearless, many articles praising her this week make note of her telling the Daily Beast in an interview that Ilsa Faust was based on Ilsa, the character played by Ingrid Bergman, in the film Casablanca.
It might be more accurate to say that George W. Bush's performance as president was inspired by Santa Claus, but some media folks took the bait, anyway. After all, Bergman was also Swedish, the characters share first names and parts of MI: Rogue Nation were filmed in Casablanca. Unless I missed the part where Bergman jumps over rooftops in Casablanca, that's exactly where the similarities end.
MI: Rogue Nation also had weak competition over the weekend, with animation film Minions taking a touch over $12 million and Ant-Man muscling in $12.6 million. Pixels, which critics basically beat to a pulp, raked in $10.4 million in the domestic market. Inside Out dropped down to a 4.5 million take, while the National Lampoon comedy Vacation earned $14.8 million at home.
Meanwhile, media reports are trying stretch a few stories out of the point that Cruise is now 53 and somehow finds the strength and maintain the sex appeal needed to continue with his Mission Impossible franchise. Methinks the critics protest too weirdly. They do understand that films now employ special effects and stuntmen are a dime a dozen, right? A little touch up, a stunt man for the obligatory shirt folding scene and Cruise will likely stop playing Ethan Hunt in 2030 or so.
By then, it will be Rebecca who? But it will long be remembered at Paramount that the first four Mission Impossible films took in an average of $500 million apiece, which means they'll be an Ethan Hunt Jr. or some variation on that theme entering the picture for Mission Impossible 6, 7, 8 or 9. Predictably, Cruise will age out, but good ideas in Hollywood, as everyone knows, can always be recast.