A
long time ago in a galaxy far, far away, actress
Carrie Fisher
helped transport viewers into a world of sci-fi and heroics with her portrayal of Princess Leia in 
Star Wars
. Fans are remembering her most well-known performance as they mourn the death of Fisher, who passed away early this morning.
Fisher had suffered a heart attack during a flight from London and Los Angeles on Friday and was hospitalized in Los Angeles. A spokesperson for her family confirmed that she died early this morning.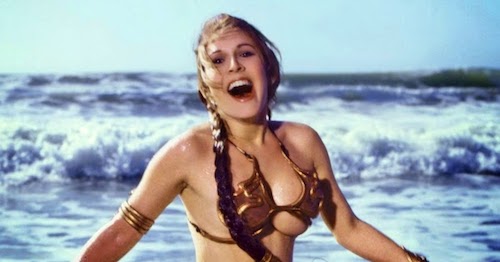 Carrie Fisher grew up in the Hollywood atmosphere, which had its ups and downs. The daughter of pop singer Eddie Fisher and actress Debbie Reynolds, Fisher began acting at a young age. However, her role as Princess Leia in the first Star Wars film, Star Wars: Episode IV – A New Hope, rocketed her to stardom.
Released in 1977, the movie broke blockbuster records and became an instant fan favorite. Leia was no typical damsel in distress–she packed a punch and took initiative, despite having to appear in that iconic gold slave bikini.
Related: Carrie Fisher & Harrison Ford Had an 'INTENSE' Affair During 'Star Wars!'
Though she acted in other projects throughout her career, including Drop Dead Fred and When Harry Met Sally, her role in Star Wars would follow her forever. She even wrote of her experiences at length in several books, her most recent one being The Princess Diarist.
The Princess Diarist also confirmed what many had already guessed–that she and Harrison Ford, who was married at the time of filming, had an "intense" affair while filming for Star Wars was taking place. She and Ford had even recently been reunited on the big screen in 2015's Star Wars: Episode VII – The Force Awakens.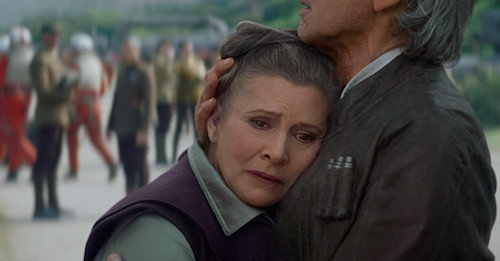 Despite being so encumbered by the entertainment industry, Carrie Fisher did her best to remain a sense of humor about it, which will no doubt remain part of her everlasting image. She is survived by her mother, brother and daughter Billie Lourd.
–MovieSpoon Staff