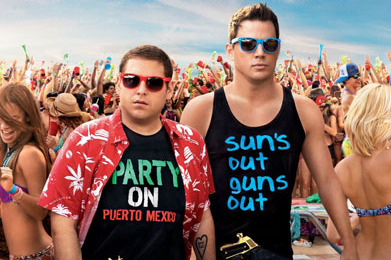 Though mostly cringe-worthy, the leaked emails from the Sony hack finally gave us something to laugh about.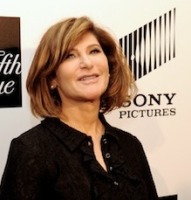 Channing Tatum's email to Sony Co-Chairman Amy Pascal and co-star Jonah Hill back in June shows how jubilant Tatum was when he found out that 22 Jump Street placed #2 on the list of best ever opening weekends for an R-rated comedy.
Tatum, like kid on Christmas, doesn't hold back his excitement and even teases Seth MacFarlane after beating Ted.
Here's the email-:
Jun 14, 2014, 33& out inc C/O FULTON & MEY wrote:
F YOU TED !!!! SECOND OF ALLLL TIMMMMME BEEEOTCH!!!! COME ON JUMPSTREETERS WE GOT CATE BLANCHETT WIT DIS BOX OFFICE BITCHES!!!!!!!!
AAAAAAAAAAHAHAHAHAHAHAHAHAHAHHAHAHAHAHAAHHAAHHAHAHAHA
HAHAHAHHAHAAHHAHAHAHAHAHAHAHAHHAAHHAHAHAHAHAHAHAHAHA
HAHAHAHAHAHAHAHHAAHHAHAHAHAHAHAHAHAHAHAHAHAHAHAHAHAH
AHAHAHAHAHAHAHAHAHAHAHAHAHAHAHAAHAHHAAHAHHAHAHAHAHAH
AHAHAHAHAHAHAHAAHHAAHAHHAHAHAHAHAHAHAHAHAHAHAHAHHAHA
HAHAHAHAHAHHAHAHAHAHAHAHAHAHAHAHAHAHAAAAAAAAAAHAHAHA
HAHAHAHAHAHAHHAHAHAHAHAAHHAAHHAHAHAHAHAHAHAHHAHAAHHA
HAHAHAHAHAHAHAHHAAHHAHAHAHAHAHAHAHAHAHAHAHAHAHAHAHAH
HAAHHAHAHAHAHAHAHAHAHAHAHAHAHAHAHAHAHAHAHAHAHAHAHAHA
HAHAHAHAHAHAHAHAAHAHHAAHAHHAHAHAHAHAHAHAHAHAHAHAHAHA
AHHAAHAHHAHAHAHAHAHAHAHAHAHAHAHAHHAHAHAHAHAHAHAHHAHA
HAHAHAHAHAHAHAHAHAHAHAAAAAAAAAAHAHAHAHAHAHAHAHAHAHHAH
AHAHAHAAHHAAHHAHAHAHAHAHAHAHHAHAAHHAHAHAHAHAHAHAHAHH
AAHHAHAHAHAHAHAHAHAHAHAHAHAHAHAHAHAHHAAHHAHAHAHAHAHA
HAHAHAHAHAHAHAHAHAHAHAHAHAHAHAHAHAHAHAHAHAHAHAHAHAHA
AHAHHAAHAHHAHAHAHAHAHAHAHAHAHAHAHAHAAHHAAHAHHAHAHAHA
HAHAHAHAHAHAHAHAHHAHAHAHAHAHAHAHHAHAHAHAHAHAHAHAHAHA
HAHAHAAAAAAAAAAHAHAHAHAHAHAHAHAHAHHAHAHAHAHAAHHAAHHAH
AHAHAHAHAHAHHAHAAHHAHAHAHAHAHAHAHAHHAAHHAHAHAHAHAHAH
AHAHAHAHAHAHAHAHAHAHHAAHHAHAHAHAHAHAHAHAHAHAHAHAHAHA
HAHAHAHAHAHAHAHAHAHAHAHAHAHAHAHAHAHAAHAHHAAHAHHAHAHA
HAHAHAHAHAHAHAHAHAHAAHHAAHAHHAHAHAHAHAHAHAHAHAHAHAHA
HHAHAHAHAHAHAHAHHAHAHAHAHAHAHAHAHAHAHAHAHAAAAAAAAAAH
AHAHAHAHAHAHAHAHAHHAHAHAHAHAAHHAAHHAHAHAHAHAHAHAHHAH
AAHHAHAHAHAHAHAHAHAHHAAHHAHAHAHAHAHAHAHAHAHAHAHAHAHA
HAHAHHAAHHAHAHAHAHAHAHAHAHAHAHAHAHAHAHAHAHAHAHAHAHAH
AHAHAHAHAHAHAHAHAHAHAAHAHHAAHAHHAHAHAHAHAHAHAHAHAHAH
AHAHAAHHAAHAHHAHAHAHAHAHAHAHAHAHAHAHAHHAHAHAHAHAHAHA
HHAHAHAHAHAHAHAHAHAHAHAHAHAAAAAAAAAAHAHAHAHAHAHAHAHA
HAHHAHAHAHAHAAHHAAHHAHAHAHAHAHAHAHHAHAAHHAHAHAHAHAHA
HAHAHHAAHHAHAHAHAHAHAHAHAHAHAHAHAHAHAHAHAHHAAHHAHAHA
HAHAHAHAHAHAHAHAHAHAHAHAHAHAHAHAHAHAHAHAHAHAHAHAHAHA
HAHAHAAHAHHAAHAHHAHAHAHAHAHAHAHAHAHAHAHAHAAHHAAHAHHA
HAHAHAHAHAHAHAHAHAHAHAHHAHAHAHAHAHAHAHHAHAHAHAHAHAHA
HAHAHAHAHAHAAAAAAAAAAHAHAHAHAHAHAHAHAHAHHAHAHAHAHAAHH
AAHHAHAHAHAHAHAHAHHAHAAHHAHAHAHAHAHAHAHAHHAAHHAHAHAH
AHAHAHAHAHAHAHAHAHAHAHAHAHHAAHHAHAHAHAHAHAHAHAHAHAHA
HAHAHAHAHAHAHAHAHAHAHAHAHAHAHAHAHAHAHAHAHAAHAHHAAHAH
HAHAHAHAHAHAHAHAHAHAHAHAHAAHHAAHAHHAHAHAHAHAHAHAHAHA
HAHAHAHHAHAHAHAHAHAHAHHAHAHAHAHAHAHAHAHAHAHAHAHAAAAA
AAAAAHAHAHAHAHAHAHAHAHAHHAHAHAHAHAAHHAAHHAHAHAHAHAHA
HAHHAHAAHHAHAHAHAHAHAHAHAHHAAHHAHAHAHAHAHAHAHAHAHAHA
HAHAHAHAHAHHAAHHAHAHAHAHAHAHAHAHAHAHAHAHAHAHAHAHAHAH
AHAHAHAHAHAHAHAHAHAHAHAHAHAAHAHHAAHAHHAHAHAHAHAHAHAH
AHAHAHAHAHAAHHAAHAHHAHAHAHAHAHAHAHAHAHAHAHAHHAHAHAHA
HAHAHAHHAHAHAHAHAHAHAHAHAHAHAHAHAAAAAAAAAAHAHAHAHAHAH
AHAHAHAHHAHAHAHAHAAHHAAHHAHAHAHAHAHAHAHHAHAAHHAHAHAH
AHAHAHAHAHHAAHHAHAHAHAHAHAHAHAHAHAHAHAHAHAHAHAHHAAHH
AHAHAHAHAHAHAHAHAHAHAHAHAHAHAHAHAHAHAHAHAHAHAHAHAHAH
AHAHAHAHAHAAHAHHAAHAHHAHAHAHAHAHAHAHAHAHAHAHAHAAHHAA
HAHHAHAHAHAHAHAHAHAHAHAHAHAHHAHAHAHAHAHAHAHHAHAHAHAH
AHAHAHAHAHAHAHAHAAAAAAAAAAHAHAHAHAHAHAHAHAHAHHAHAHAHA
HAAHHAAHHAHAHAHAHAHAHAHHAHAAHHAHAHAHAHAHAHAHAHHAAHHA
HAHAHAHAHAHAHAHAHAHAHAHAHAHAHAHHAAHHAHAHAHAHAHAHAHAH
AHAHAHAHAHAHAHAHAHAHAHAHAHAHAHAHAHAHAHAHAHAHAHAAHAHH
AAHAHHAHAHAHAHAHAHAHAHAHAHAHAHAAHHAAHAHHAHAHAHAHAHAH
AHAHAHAHAHAHHAHAHAHAHAHAHAHHAHAHAHAHAHAHAHAHAHAHAHAH
AAAAAAAAAAHAHAHAHAHAHAHAHAHAHHAHAHAHAHAAHHAAHHAHAHAHA
HAHAHAHHAHAAHHAHAHAHAHAHAHAHAHHAAHHAHAHAHAHAHAHAHAHA
HAHAHAHAHAHAHAHHAAHHAHAHAHAHAHAHAHAHAHAHAHAHAHAHAHAH
AHAHAHAHAHAHAHAHAHAHAHAHAHAHAHAAHAHHAAHAHHAHAHAHAHAH
AHAHAHAHAHAHAHAAHHAAHAHHAHAHAHAHAHAHAHAHAHAHAHAHHAHA
HAHAHAHAHAHHAHAHAHAHAHAHAHAHAHAHAHAHAAAAAAAAAAHAHAHAH
AHAHAHAHAHAHHAHAHAHAHAAHHAAHHAHAHAHAHAHAHAHHAHAAHHAH
AHAHAHAHAHAHAHHAAHHAHAHAHAHAHAHAHAHAHAHAHAHAHAHAHAHH
AAHHAHAHAHAHAHAHAHAHAHAHAHAHAHAHAHAHAHAHAHAHAHAHAHAH
AHAHAHAHAHAHAHAAHAHHAAHAHHAHAHAHAHAHAHAHAHAHAHAHAHAA
HHAAHAHHAHAHAHAHAHAHAHAHAHAHAHAHHAHAHAHAHAHAHAHHAHAH
AHAHAHAHAHAHAHAHAHAHAAAAAAAAAAHAHAHAHAHAHAHAHAHAHHAH
AHAHAHAAHHAAHHAHAHAHAHAHAHAHHAHAAHHAHAHAHAHAHAHAHAH
HAAHHAHAHAHAHAHAHAHAHAHAHAHAHAHAHAHAHHAAHHAHAHAHAHA
HHAHAHAHAHAHAHAHAHAHAHAHAHAAHHAAHAHHAHAHAHAHAHAHAHAH
AHAHAHAHHAHAHAHAHAHAHAHHAHAHAHAHAHAHAHAHAHAHAHAHAAAA
AAAAAAHAHAHAHAHAHAHAHAHAHHAHAHAHAHAAHHAAHHAHAHAHAHAHA
HAHHAHAAHHAHAHAHAHAHAHAHAHHAAHHAHAHAHAHAHAHAHAHAHAHAH
AHAHAHAHAHHAAHHAHAHAHAHAHAHAHAHAHAHAHAHAHAHAHAHAHAHAH
AHAHAHAHAHAHAHAHAHAHAHAHAAHAHHAAHAHHAHAHAHAHAHAHAHAHA
HAHAHAHAAHHAAHAHHAHAHAHAHAHAHAHAHAHAHAHAHHAHAHAHAHAHA
HAHHAHAHAHAHAHAHAHAHAHAHAHAHAAAAAAAAAAHAHAHAHAHAHAHAHA
HAHHAHAHAHAHAAHHAAHHAHAHAHAHAHAHAHHAHAAHHAHAHAHAHAHAH
AHAHHAAHHAHAHAHAHAHAHAHAHAHAHAHAHAHAHAHAHHAAHHAHAHAHA
HAHAHAHAHAHAHAHAHAHAHAHAHAHAHAHAHAHAHAHAHAHAHAHAHAHAH
AHAAHAHHAAHAHHAHAHAHAHAHAHAHAHAHAHAHAHAAHHAAHAHHAHAHA
HAHAHAHAHAHAHAHAHAHHAHAHAHAHAHAHAHHAHAHAHAHAHAHAHAHAH
AHAHAHAAAAAAAAAAHAHAHAHAHAHAHAHAHAHHAHAHAHAHAAHHAAHHAH
AHAHAHAHAHAHHAHAAHHAHAHAHAHAHAHAHAHHAAHHAHAHAHAHAHAHA
HAHAHAHAHAHAHAHAHAHHAAHHAHAHAHAHAHAHAHAHAHAHAHAHAHAHA
HAHAHAHAHAHAHAHAHAHAHAHAHAHAHAHAHAAHAHHAAHAHHAHAHAHAH
AHAHAHAHAHAHAHAHAAHHAAHAHHAHAHAHAHAHAHAHAHAHAHAHAHHAH
AHAHAHAHAHAHHAHAHAHAHAHAHAHAHAHAHAHAHAAAAAAAAAAHAHAHAH
AHAHAHAHAHAHHAHAHAHAHAAHHAAHHAHAHAHAHAHAHAHHAHAAHHAHA
HAHAHAHAHAHAHHAAHHAHAHAHAHAHAHAHAHAHAHAHAHAHAHAHAHHAA
HHAHAHAHAHAHAHAHAHAHAHAHAHAHAHAHAHAHAHAHAHAHAHAHAHAHA
HAHAHAHAHAHAAHAHHAAHAHHAHAHAHAHAHAHAHAHAHAHAHAHAAHHAA
HAHHAHAHAHAHAHAHAHAHAHAHAHAHHAHAHAHAHAHAHAHHAHAHAHAHA
HAHAHAHAHAHAHAHAAAAAAAAAAHAHAHAHAHAHAHAHAHAHHAHAHAHAHA
AHHAAHHAHAHAHAHAHAHAHHAHAAHHAHAHAHAHAHAHAHAHHAAHHAHAH
AHAHAHAHAHAHAHAHAHAHAHAHAHAHHAAHHAHAHAHAHAHAHAHAHAHAH
AHAHAHAHAHAHAHAHAHAHAHAHAHAHAHAHAHAHAHAHAHAAHAHHAAHAH
HAHAHAHAHAHAHAHAHAHAHAHAHAAHHAAHAHHAHAHAHAHAHAHAHAHAH
AHAHAHHAHAHAHAHAHAHAHHAHAHAHAHAHAHAHAHAHAHAHAHAAAAAAAA
AAHAHAHAHAHAHAHAHAHAHHAHAHAHAHAAHHAAHHAHAHAHAHAHAHAHH
AHAAHHAHAHAHAHAHAHAHAHHAAHHAHAHAHAHAHAHAHAHAHAHAHAHAH
AHAHAHHAAHHAHAHAHAHAHAHAHAHAHAHAHAHAHAHAHAHAHAHAHAHAH
AHAHAHAHAHAHAHAHAHAHAAHAHHAAHAHHAHAHAHAHAHAHAHAHAHAHA
HAHAAHHAAHAHHAHAHAHAHAHAHAHAHAHAHAHAHHAHAHAHAHAHAHAHH
AHAHAHAHAHAHAHAHAHAHAHAHAAAAAAAAAAHAHAHAHAHAHAHAHAHAHH