H
ow do you generate Oscar buzz? It turns out, one of the basic strategies is to offer a film for limited release and let the nationwide audience suffer a bit – or, let's say, stew in their own juices – in anticipation of a movie like
La La Land
that is being awarded generous accolades from reviewers.
The mysterious film of the week, La La Land, features Emma Stone and Ryan Gosling, and opened in a seriously underwhelming five theaters over the weekend, while distributor Lionsgate turns on the publicity machine. In the meantime, the film is making a big splash with reviewers, garnering a 95 percent positive rating at review survey site Rotten Tomatoes and taking home eight wins at the Critics Choice Awards – in support of 12 nominations – and securing nominations for seven Golden Globe awards – including Best Picture, Best Director, Best Actor and Actress, Best Song and Best Score.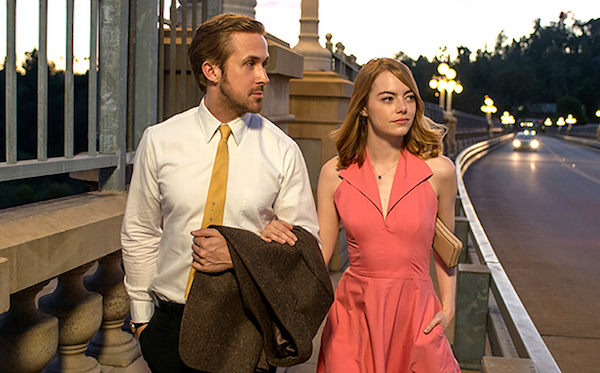 The big question for this reviewer: How is this all possible, when the film was released in only five theaters this past week in anticipation of its full release this coming week? How many reviewers could have seen the film at this point?
That idiotic glitch aside, the film is, finally, being touted for its take at the box office with weekly reports indicating that the film earned "a staggering $855,000" in its very limited release. Well, why wouldn't the theaters be packed at each showing? After all, the film was released in big city theaters and everyone for miles around must be clamping at the bit to buy a ticket.
Related: Trailer: 'La La Land' Gets More & More Magical with Emma Stone & Ryan Gosling
OK, that's a lot of saber rattling for one film. Still, it remains to be seen how much the buzz will continue next week, when it really matters. For now, La La Land is certainly on its way to breaking even at the very least, as it cost $30 million to produce.
On the weekend's actual top 10 revenue list, it is business as usual. The new animated flick Moana held onto first place in U.S. theaters, earning $18.8 million over the weekend, even as Fantastic Beasts and Where to Find Them reigned over the competition in worldwide take with $43.8 million in revenue. On the domestic front, Fantastic Beasts came in third under the seasonal offering of Office Christmas Party, which took in $17.5 million in domestic theaters and $33.9 million worldwide.
Read more to see the rest of the box office: