T
he impact a broken heart can have is terrifyingly real. After her daughter
Carrie Fisher
passed away earlier this week, actress
Debbie Reynolds
died of a stroke just one day later.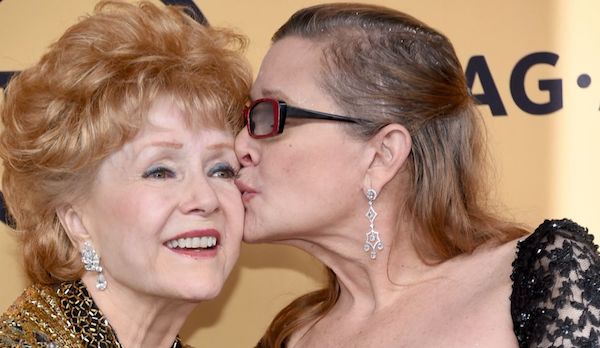 In her 2013 memoir, Unsinkable, Debbie Reynolds wrote about her fear of losing her daughter before she herself had passed away.
"It's not natural to outlive your child. This has always been my greatest fear," she wrote. "Carrie is my child and I love her with every ounce of strength I possess. … I don't know if I could survive that."
Reynolds was reportedly in the midst of planning Fisher's funeral when she suffered a stroke. She was transported to Cedars-Sinai Medical Center, where she later passed away. Her son Todd Fisher stated that her last words were even about her daughter: "I miss her so much. I want to be with Carrie."
Todd Fisher was Carrie's sibling and Reynolds' other child with her first husband, Eddie Fisher. The two were married from 1955 to 1959, but Fisher left Reynolds to be with Elizabeth Taylor. Reynolds later married two additional times.
Her interesting personal life was no match for her stellar career. Her breakout role was in the musical Singin' in the Rain, where she starred opposite the likes of Gene Kelly and Donald O'Connor. After that, her career was on fire up until the present. She went on to star in movies like How the West Was Won, The Unsinkable Molly Brown and The Singing Nun in the following decade.
In between stints on the big screen, she ran a dance studio and performed on Broadway. As she got older, she started making impacts with small roles on television, where her natural star power would often steal the show. She received an Emmy nomination for her portrayal of Grace's mother on the TV show Will & Grace and struck a chord with younger audiences with the Disney Halloweentown series.
Both she and Carrie Fisher are being fondly remembered for their work in the film industry and their love for each other.
–MovieSpoon Staff