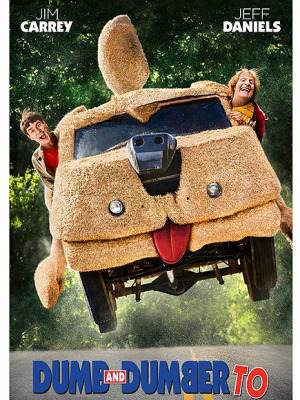 It's been twenty years since Dumber and Dumber (1994) debuted at #1 at the box office. Where does the time go? If you're Loyd Christmas (Jim Carey) you've been sitting in an insane asylum just so you could pull a prank on Harry Dunne (Jeff Daniels).
Dumb and Dumber To, directed by the Farrelly Brothers, has been in the higher end of the pack and, according to Box Office Mojo, has quietly raked in almost $80 million at the box office on a production budget of $40 million. It's no Hunger Games but it's also not The Pyramid either.
This is quite a feat since it's been almost ten years since Carey had a bonified commercial success at the box office, though, to be fair, he has delivered many critically acclaimed performances. Jeff Daniels' biggest year was in 1994 when he hit it big with both Dumb and Dumber and Speed.
To put this all in perspective, 1994 was a huge year for Jim Carey. Not only did Dumb and Dumber open at #1 but so did  Ace Venture: Pet Detective and  The Mask.
The success of Carey's recent showing, though not as strong as his heyday in the 90's, is still nothing to sneeze at.
Dumb and Dumber to (2014)
Dumber and Dumber (1994)