W
e love you,
Eddie Redmayne
, but this is one casting decision we're pretty glad didn't work in your favor. The 
Fantastic Beasts and Where to Find Them
star revealed he auditioned for the villainous role of
Kylo Ren
in 
Star Wars: The Force Awakens
, but he wound up being a huge flop.
"I was going for, I think, Adam Driver. They gave me like a Star Trek scene, or like something from Pride and Prejudice. It was one of those films," Eddie Redmayne described. "With films that top secret, they don't give you the actual lines, so they give you a scene from Pride and Prejudice, but then they tell you you're auditioning for the baddie."
That's why things took a turn south for the Oscar-winning thespian. "If you're me, you then put some ridiculous voice on. That was really a hilarious moment. Because it was Nina Gold, who I have to thank a lot because she's cast me in several films."
Related: Holy Dumbledore! 'Fantastic Beasts' Will Span 5 Movies
And poor Nina had to sit through his silly attempts. "She was just sitting there and I was trying again and again with different versions of my kind of"–and here he made some Darth Vader breathing noises—"And after like 10 shots she's like, 'You got anything else?' I was like, 'No.'"
The role ultimately went to Adam Driver, who has so far received mostly praise for his fit as the Darth Vader-idolizing son of Han Solo and Princess Leia.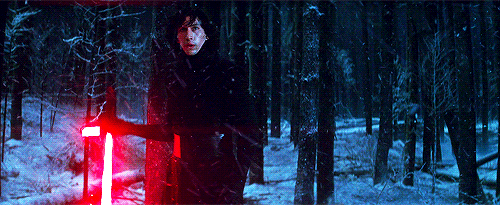 Of course, if Eddie Redmayne would have gotten the part of Kylo Ren, there's a good chance filming would have conflicted too much with the five upcoming Fantastic Beasts films, so he's probably not too miffed.
Gee, what a tough life Eddie Redmayne must have. We kid, we kid, but he's no doubt proud to be vying for roles in such memorable franchises.
–MovieSpoon Staff