I
n the Marvel Cinematic Universe,
Captain Steve Rogers
is 96 years old. As far as we know, his only remotely romantic interaction before going under the ice was his kiss with
Peggy Carter 
(played by
Hayley Atwell
) in
Captain America: The First Avenger
.
Then he goes under the ice for seventy years, wakes up, and finds that his one lady love has continued to age, while he hasn't. So here he is, in his 90s and the oldest virgin around. Is he supposed to stay single forever to honor Peggy? Never touch another woman?
Of course not. But going after Peggy's niece in Captain America: Civil War was a little much. Out of all the women in the world, did he have to pick a relative of his recently deceased first love to make a move on?
Though some people don't mind Steve kicking things off with Sharon Carter (played by Emily VanCamp in the films), Hayley Atwell is not one of those people. At Dallas Comic Con earlier this week, the Agent Carter actress had a strong opinion about what Peggy would think about Captain America putting the moves on her niece.
"Well, first of all [Peggy]'d be turning over in her grave. She'd be like, 'no.' And she'd inject herself with the blue serum and become a super villain. She'd break out of her coffin and ground [Sharon]. She'd ground her," she started.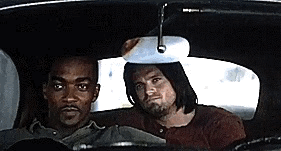 "Then she'd kick Steve's ass as well. I just feel that, you know, I wouldn't want to date my great aunt's guy," Atwell continued. "It just feels like it crosses an incestuous boundary. And Peggy just died. That's even more disrespectful, right? It's like, 'Don't touch that. You can't tap that!'"
Read more to see what Hayley Atwell had to say about Captain America joining Hydra: