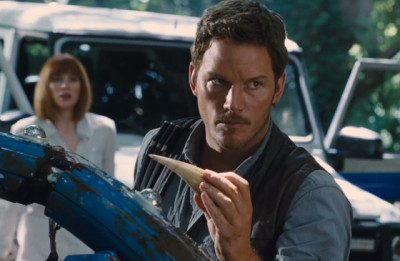 Movie news for the weekend of June 13-14 is all about Jurassic World exceeding all expectations at the box office and the possibility that Chris Pratt has really arrived as an A-list movie star, despite his relatively short resume.
Be forewarned. The answer to every question posed in this article is "Yes!" with one explanation point otherwise noted. For examples: Is Jurassic World a rocking addition to the Jurassic Park series (Yes!); is Chris Pratt a bona fide A-list Hollywood star (Yes!) and does Bryce Dallas Howard win the Marilyn the Librarian When You're Hot, You're Hot (When You're Not, You're Not) Trophy for 2015 (emphatically Yes!!!).
OK, for all the film buffs who only know films after 1962, Marilyn The Librarian was the decidedly plain-looking librarian in The Music Man until she took off her glasses and shook her hair down, revealing her to be a stunner underneath a cold, professional demeanor. Especially at the movies, men have never quite looked at wallflowers the same way again.
OK, back to the off-the-chart numbers, that are blowing away the expectations.
First of all, the idea was for Jurassic World to notch a first-weekend take of $125 million. That, it was said, would be enough to rescue theaters from an otherwise lackluster summer schedule, which included a disappointing Avengers: Age of Ultron, and Jupiter Ascending and Tomorrowland.
Although Mad Max, Fury Road did better than expected, it wasn't enough push 2015 solidly past 2014, which was the slowest summer at the movies in years.
Here we go. Using Rentrak figures, Jurassic World is expected to take in $204,596,380 in its first weekend in the domestic market and $307,200,000 on the international stage, raking in a total $511,796,380 worldwide.
It could be safely said that the film smoked all the competition. The worldwide take for San Andreas for the weekend stands at $53,510,000, while the total take for Melissa McCarthey's latest, Spy, is 29,500,000. Mad Max: Fury Road, notched $9,530,000 worldwide for the weekend, while Tomorrowland (a preachy, confusing film starring George Clooney) has taken in $8,017,000 worldwide.
Further, Jurassic World was shown in 4,274 theaters over its first weekend, making a per-theater take of $47,870.
The dino romp looks to be the new leader for first-weekend in June releases, toping Man of Steel, the previous record-holder with box office receipts of $116.6 million. Toy Story 3 and Transformers: Revenge of the Fallen were also first-weekend in June releases with receipts in the first weekend reaching $110.3 million and $108.9 million, respectively.
Jurassic World's opening night on Thursday took in $18.5 million, which puts it behind Age of Ultron, which took in $27.6 million on its opening night for Disney and Marvel. But Age of Ultron took in $191.3 million in its first weekend and the big, bad lizards and company look poised to do even better than that.