All it takes is a photograph to light up the Internet, and the photo supplying the star power this week is one of actor Jeff Goldblum, looking every bit the accidental genius (a familiar role for him) in what will be the sequel to the 1996 blockbuster Independence Day.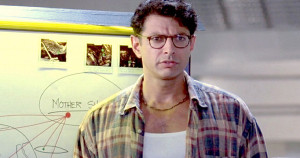 Director Roland Emmerich reportedly released the photograph of Goldbum reprising his role as the cerebral, but nervous David Levinson, the computer expert who saved the day in the first Independence Day. The reason for the photo's release was apparently to quell rumors that the sequel was actually in the making.
The film, which features another alien invasion, might seriously be called Family Reunion given the number of stars who are returning for the remake.
You might start by asking "who died in the first film?" and go from there. The president's wife Marilyn Whitmore died in the first film; cancel the return of Mary McDonnell, who played that part. And Randy Quaid's character Russell Casse dies in a memorable act of kamikaze heroism, so he can't come back, either.
Otherwise, Independence Day 2, which is set for release on 24 June 2016, looks to have a solid returning ensemble. Character actor Judd Hirsch, who played David's father Julius is back. Bill Pullman, who played the let's-tough-this-one-out president Thomas Whitmore is now the ex-president in a plot that picks up almost 20 years after the end of the first installment. (This makes for less fuss in the makeup room.) Vivacious Vivica Fox returns as Jasmine Dubrow and Brent Spiner returns as the befuddled, comedic scientist Brackish Okun.
The missing link: Will Smith, whose career was catapulted to new heights by the first film is not returning as Steven Hiller.
At the time, Smith's character put the final touch on the ascension of heroism in film roles for African Americans. After all, Hiller was just an everyday, show-up-to-work Air Force pilot in the first film, who happens to save the world from eminent destruction by aliens with spaceships so large they hovered over entire cities at a time.
Hiller got in a little one-on-one with one alien dude and bested him in a full-speed dog fight, then returned for the visit to the alien's master ship. He gave them a bit of a run for their money, as well.