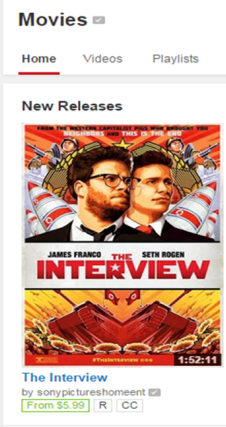 In another dramatic move, Sony Pictures has decided to stream The Interview online on it's own site – SeeTheInterview.com – and on YouTube, Google Play and Microsoft's Xbox for $5.99. The release comes on Christmas Eve (a day ahead of the theatrical release in approximately 300 interdependently owned theaters across the US).
Sony's move is the latest in what could have been be the surreal plot line in another yet-to-be-made silly movie – North Korea hacks Sony in order to stop the release of a comedy movie about its own dictator, Kim Jong Un.
The digital release could foreshadow a seismic shift in digital distribution strategies for major studios. Independent films have started to become available on demand via cable providers the same day as the theatrical release but major studios have been slow adopt the model.
This could also lead to Sony's reevaluation of one of its digital properties, Crackle.com, which has Sony has purportedly thought about shutting down and/or selling.
According to Sony CEO Michael Lynto, "It has always been Sony's intention to have a national platform on which to release this film. With that in mind, we reached out to Google, Microsoft and other partners last Wednesday, Dec. 17th, when it became clear our initial release plans were not possible. We are pleased we can now join with our partners to offer the film nation-wide today."
Here's where you can stream The Interview:
1) www.seetheinterview.com. The site is sponsored by Sony Pictures in partnership with Kernel.
2) youtube.com/movies. You can also watch on Chromecast, Apple TV, PlayStation and Xbox.
3) play.google.com. Watch on mobile devices or on your Internet-connected TVs via Chromecast, Roku or Nexus Player.
4) XboxVideo.com. Rent or buy via Microsoft's Xbox Video.