A
hhh, the fickle heart of a Norse god. When
Chris Hemsworth
first appeared as Thor in the movie of the same name in 2011, his character immediately fell for
Natalie Portman
's scientist Jane Foster. But then, 
poof!
Jane Foster disappeared.
At the end of Thor, Jane was looking for a way to reach Thor in Asgard. In the sequel Thor: The Dark World, Jane Foster actually got to come to Asgard. She even got to meet Thor's dad, who just happens to be Odin.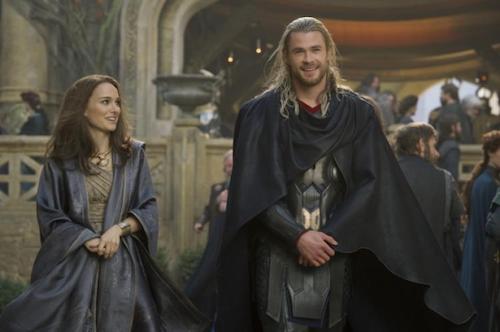 But then what? At the end of Thor: The Dark World, Loki was on the throne, disguised as Odin. The pseudo-Odin gives Thor permission to follow his heart, and Thor heads back to Earth. But after that, Thor showed up in Avengers: Age of Ultron. But aside from a quick mention, Natalie Portman's character was nowhere to be seen.
Related: Trailer: 'Thor: Ragnarok' Is SO Worth the Wait
Portman herself speculated that this was the end of Jane Foster, and that she wouldn't appear in the upcoming Thor: Ragnarok. "As far as I know, I'm done," she said. "I mean, I don't know if maybe one day they'll ask for an Avengers 7 or whatever."
Considering a new love interest is supposed to be introduced for Thor (Tessa Thompson as Valkyrie), it would make sense for Portman to make her permanent exit.
Leave It to Taika
However, now a tweet from Thor: Ragnarok director Taika Waititi is causing fans to question that. He shared two pictures. The first was Natalie Portman in Leon: The Professional. The second was from her movie Where the Heart Is. The caption read, "Heed the signs. #Ragnarok."
Heed the signs. #Ragnarok pic.twitter.com/ug2crhTFtK

— Taika Waititi (@TaikaWaititi) May 6, 2017
So what could it mean? They are in the midst of reshoots for Thor: Ragnarok, so many people are speculating that Portman could be shooting a cameo. We'll have to wait until Thor: Ragnarok comes out on November 3, 2017, to know for certain.
–MovieSpoon Staff