T
he first 
Guardians of the Galaxy 
movie was a hoot thanks to hilarious characters like Peter Quill, Groot and Rocket Raccoon. Naturally, we have high expectations for 
Guardians of the Galaxy Vol. 2
to be just as witty.
Director James Gunn has just revealed that (no surprises here) there are going to be some greatly humorous moments in Guardians of the Galaxy Vol. 2, but he also mentioned exactly which character will get the brunt of the laughs.
Gunn was responding to questions on Facebook when he mentioned that former pro wrestler Dave Bautista, who plays the alien known as Drax the Destroyer, steals the show.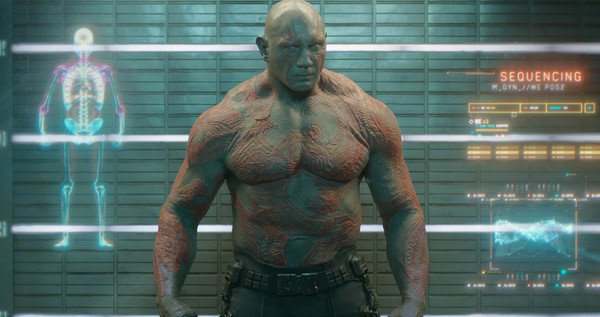 "Everything is funny. He's the funniest character in Volume 2," Gunn wrote. He added that the voice of Rocket Raccoon feels the same way. "Bradley Cooper just saw the movie and talked about how he's like Zack Galifanakis [sic] in The Hangover (in that he kills every line he has)."
What makes Drax so hilarious? He has absolutely no sarcasm skills whatsoever, which means he takes everything literally. When he's surrounded by characters who can't contain their snark, it makes for a pretty good set-up for comedy.
Related: Infinity Stones WON'T Appear in 'Guardians of the Galaxy Vol. 2': 'We've Got Other Fish to Fry'
Not a whole lot is known about what will happen to Drax and the gang in Guardians of the Galaxy Vol. 2, but a short trailer has given a glimpse of the action:
Even in the trailer, Drax is stealing the show with his awkward hugging skills. If this is any indication of how the rest of the movie will play out, James Gunn was definitely right about Drax being one of the funniest parts of the movie.
Guardians of the Galaxy Vol. 2 will be out in theaters on May 5, 2017.
–MovieSpoon Staff