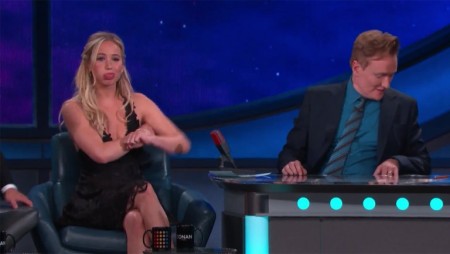 Self-professed tomboy Jennifer Lawrence has proven herself once again to be the master of the anti-climax, simply because she refuses to be ambushed by her own fame.
Her No. 1 goal in life — aside from acting well and establishing mutually beneficial relationships and all of that – appears to be not letting fame derail her otherwise upbeat, girl-next-door personality. In this sense, she's a little bit like John Lennon of decades past, who startled the so-called establishment and fans alike by simply saying what was on his mind.
This results in a wild ride for the media, where put ons and come ons are par for the course. And we get to use words like "refreshingly candid" and "honest" and "frank" as if they were rare jewels of some kind.
And sometimes "frank" and "candid" are just code words for spontaneous, because a star refuses to be groomed to fit a production company's preferred image. In this sense, Lawrence is just like the Katniss Everdeen character she plays in The Hunger Games series, a story about a girl growing up in a country where fame is exploited down to the last drop.
In real life, Lawrence always looks surprisingly nervous on talk shows. She bullies through the segment as best she can; her antics even seem to surprise herself sometimes.
Here on The Conan O'Brien Show, is Lawrence at her spontaneous, self-effacing best, poo-pooing her own success with the hit song "The Hanging Tree," which was produced for The Hunger Games series.
And, it turns out, when she breaks into song, she is just as big a sucker for Cher as the rest of us.
iframe width="560″ height="315″ src="https://www.youtube.com/embed/kRwjr8AxoRY" frameborder="0″ allowfullscreen></iframe>