W
hen
Colin Firth
's character bit the dust in 
Kingsman: The Secret Service
, it was too heartbreaking to believe. Nobody wanted to see Harry Hart, otherwise known as Galahad, leave behind his young apprentice Eggsy (
Taron Egerton
).
Then again, in a movie with a shockingly comical massacre taking place in a church, could we really be too surprised that a main character was collateral damage?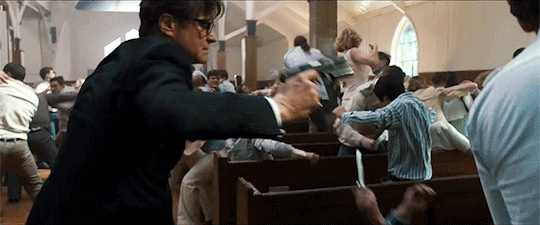 However, hope returned when posters for the sequel film, Kingsman: The Golden Circle, were released. On one of the posters, there's a simple photo of Colin Firth's character's glasses with the quote, "Reports of my death have been greatly exaggerated."
Now we have our second clue that Galahad's death may have been faked. Game of Thrones star Pedro Pascal, who is joining the cast of the new Kingsman film, posted a photo on Instagram that seems to spill the beans on Colin Firth's return.
Those who don't recognize Pascal by name merely have to think of that horrific Game of Thrones scene in which he battled "the Mountain" to recognize his face. Er…well, what was left of it after that awful duel.
Read more to see who else is joining the cast: