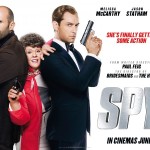 Melissa McCarthy as the world's most unlikely international spy did well over the weekend with her latest Paul Feig collaboration taking in $30 million over June 5-7. But the latest weekend numbers show that summer 2015 at the movies is off to a tepid start with the most notable disappointments George Clooney's preachy sci-fi send up Tomorrowland, which is doing poorly right on the heels of  Jupiter Ascending, which also went nowhere fast.
So far, the biggest surprise of the summer is the Pitch Perfect 2, which has limited appeal overall, but that appeal happens to target teenagers, who are major spenders at the movies.
Industry observers are not finding much solace in the point that 2015 is outpacing 2014 by 2.9 percent, simply because 2014 had the lowest sales volume since 1997.
Pitch Perfect 2 exemplifies a business strategy in Hollywood, which is to make use of brand loyalty. Sequels are not the norm because they do poorly at the box office. Even if Avengers: Age of Ultron isn't as strong as its predecessor, it has still earned $438 million at the domestic box office (compared to $623 million for the first Avengers film).
That means the pressure is on for those large lizards of Jurassic World, which is due to open June 12.
Without question, Jurassic World is expected to end the summer's sales slump with opening weekend sales expected to top $100 million.
That would certainly help put 2015 back on track. However, if it stumbles at all, there's the Despicable Me spin off called Minions, which is right around the corner and should appeal to all ages. Pixar is also releasing Inside Out on June 19 – a story about a young girl, whose decisions are made by a collection of internal entities, known as Joy, Anger, Disgust, Fear and Sadness, which comprise the girl's emotional spectrum.
If that doesn't do it, the next film in the Mission Impossible series (Mission Impossible: Rogue Nation) is due for a July 31 release and Pixels, staring Adam Sandler and Kevin James is due out July 24.