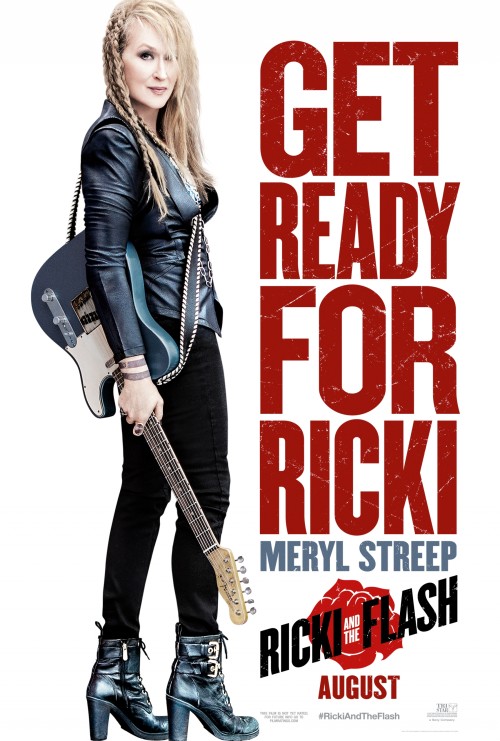 If you think that rock 'n roll will save the world (and I can't think of anything else that has remotely half a chance) and you are especially devoted to great bar bands that know how to boogie, then Ricki and the Flash is your kind of film.
But if you think great rock tunes from the 1970s and 1980s, no matter how joyful, can rescue the terrible Diablo Cody script presented in this over-laden Meryl Streep melodrama, directed by Jonathan Demme, then you've got a hard day's night ahead of you, friend.
Just take this one scene as a warning: After being summoned from the bar scene in Los Angeles to reconnect with a depressed daughter in a mega-wealthy neighborhood somewhere in Indiana, Linda, aka Ricki, played by Streep, gets a little of the flirt on with her ex, a wealthy businessman named Pete, played by Kevin Kline.
After this flirty evening, Linda / Ricki wakes to find Pete's second wife, Maureen, played by Audra McDonald, has arrived on the scene, back from visiting her ailing father. If you don't understand this is awkward, the script hammers it home. Mauren, first off, is the precise opposite of Linda / Ricki. She is also younger, prettier, alert and smart, whereas Streep plays Linda / Ricki as a biker-mamma with grandma-jowls, who wears leather pants, jewelry and tattoos and who wakes late and hasn't much smarts. She voted for George Bush twice, we are told. She also thinks ALS, the ailment that Maureen's father has, is an acronym for Alzheimer's disease. This is played for a weak laugh.
So, Linda / Ricki wakes up and goes to the kitchen where Maureen is making French toast and director Demme plays this scene this way: It is revealed that Maureen makes famously great French toast, so Linda / Ricki is angry and makes a rude comment. But, it turns out, Maureen has never been very good at making bacon, so Linda / Ricki is now greatly relieved, perks up an says something engaging and sweet. But the other shoe drops as Linda / Ricki is told Maureen does make one great cup of coffee. So, Linda / Ricki is now angry again.
The script hangs on these kinds of forced pretenses again and again, and every line is played for some heavy-handed passive-aggressive portent, which makes every line a complete fail. Most of the script is childish at best. In the first scene in which Streep meets her thirty-year old daughter Julie (played by her real daughter Mammie Gummer), Julie screams, "Why do you dress like a hooker?" then storms out of the room. Worse, she storms up a flight of stairs – just like a 13-year old retreating in anger to her bedroom. Sure enough, we hear a door slam and some music turned way  up.
In fact, age is a major issue with this movie. It's about a woman who left her family 10 years ago, which means her children are around 20 – still young and vulnerable. But Streep is way too old for that. To be real at all, her children would be in their 30s — either that or Linda / Ricki had these children at a very, very old age. To make this film work, her children look to be in their mid-30s, but the script has them spitting out vitriol like petulant teenagers. Although her two sons are independent, grown up men, their dialogue is "I like mommy. She's our mommy." and "I hate our mummy; don't you realize she left us, when we needed her?" Even though Maureen has been with the family for 20 years or so, she is still referred to as "the replacement wife," and scripts that assume the audience is that stupid get boring very quickly.
What's also missing from this movie is addiction. Ricki is his hard-rocker, who has a drink now and again — but in real life a woman who abandons her children to become a rocker in L.A. is masking serious addictions to drugs and alcohol. That would have made this movie real. But the issue here is whitewashed.
This is supposed to be a triumphant movie about "follow your dreams," even if it means being a cashier at Total Foods by day and playing Tom Petty covers in an L.A. bar at night. This is supposed to allow us to forgive a woman for walking out on her children. This movie is like the Partridge Family on acid — except I think they had better scripts than this. It's more like Mott The Hoople as envisioned by Walt Disney. In any case, the music in this movie is fun. But the movie is a complete embarrassment.