Ben Affleck's got a dark secret…Read our movie review of The Accountant to get the news on his latest action pic:
Ben Affleck's gun-toting protagonist of The Accountant is Christian Wolff, a man afflicted with Asperger's Syndrome. As someone with Asperger's Syndrome, I'd like to clear up some misconceptions that may be taken away from this performance.
Asperger's comes in varying degrees that not all find themselves sensitive to sensory or crippled by compulsive defenses of blowing on fingers or rocking back and forth. I would, however, like to affirm we all know martial arts, are fully trained in using guns and keep a stockpile of them stashed in storage.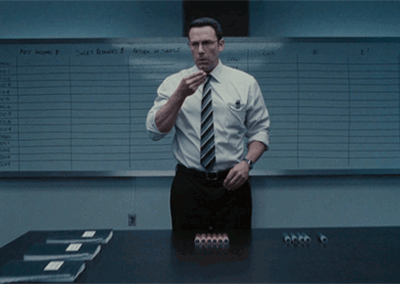 Christian isn't normal, even for someone with this mental condition. He's been trained by his military father in all manner of combat to not be a victim. Because of his father's brutally strict training, Christian has become a powder keg of an individual that serves as a secret agent for a faceless woman over the phone. To keep himself strong, he submits himself to painful exercises and flashing lights, facing the fears of both his condition and his strength.
When not on the hunt, he settles into the role of an accountant, a position that suits his mentality like a glove. It's not just a simple cover as he really gets into the mathematics of accounting. His latest client being that of a robotics company led by John Lithgow proves to be a massive task, but very much enticing. He analyzes decades of accounting data literally overnight and begins writing his finds on the glass walls, boasting with glee to a junior accountant played by Anna Kendrick. Their chemistry in the handful of scenes they share is rather charming and thankfully never downgrades into a forced romance.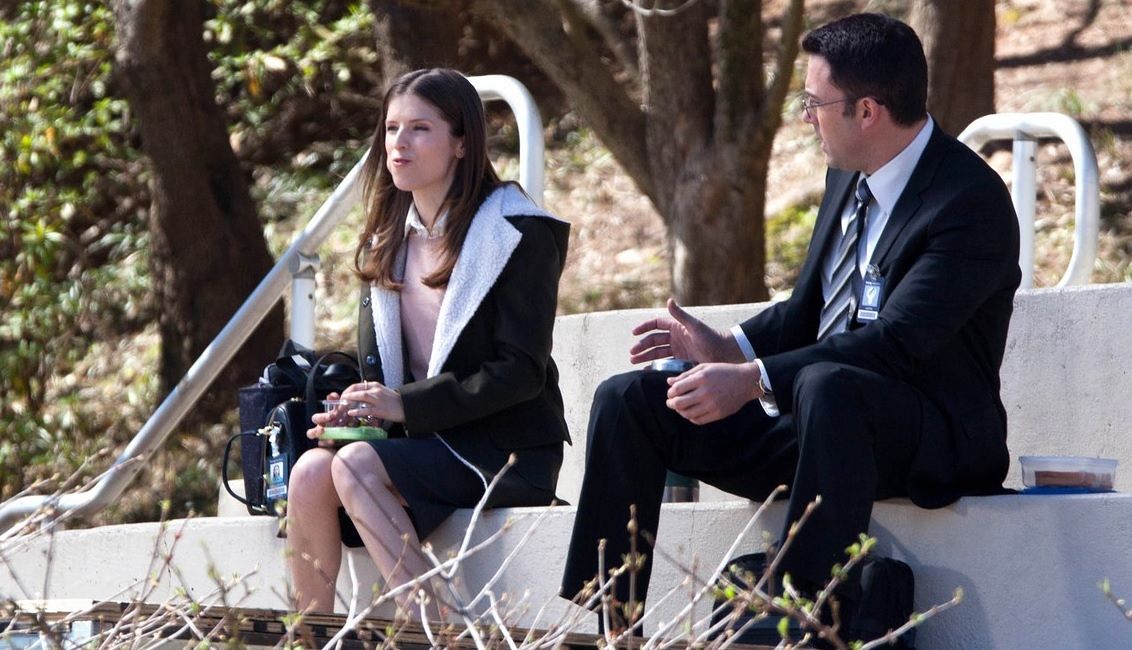 Similar to Matt Damon in Jason Bourne, this is the Ben Affleck action show where all other characters pass in and out of the story. Anna Kendrick attempts to befriend Christian, but only as close as Christian can allow himself to get and only for as long as the script requires her. Jeffrey Tambor plays an incarcerated mobster that also befriends Christian, but only briefly in flashbacks. Joe Bernthal plays an eccentrically sadistic assassin, but doesn't clash with Christian towards the end of the picture for an obvious reveal.
The only other characters we spend the most time with are two Treasury agents played by JK Simmons and Cynthia Addai-Robinson; both strong actors, but given little to do. Simmons plays Ray King as an old agent ready to retire and, as closure, blackmails agent Medina (Addai-Robinson) into uncovering the identity of this mysterious accountant that has eluded identification. Their B-story is almost entirely distant from Wolff's and become very dependent on exposition to unravel his past. But it's a ludicrous plot that's oddly paced as when a twist is revealed in a needlessly long flashback.
Read more to get the rest of our movie review for The Accountant: