I
find myself with questions I shouldn't be asking for the premise of
Cars 3
, but could you blame me? This surprisingly somber and sentimental entry of the saga focuses on when the automotive citizens of this cars-only universe get old. There are now newer, flashier and younger (?) racers that are replacing the old guard. What happens when the older cars are too old to compete? Do they sellout to get new parts and drive faster?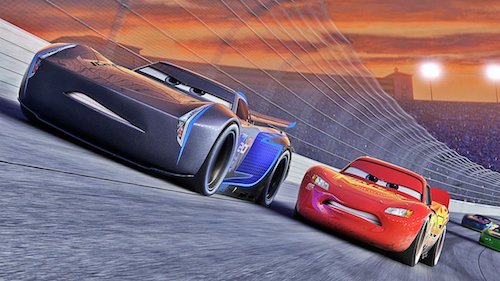 Apparently not as this is rarely brought up, leading me to believe that part replacement in this world is either a sign of shame or not possible. Older cars seem to retire from racing, but what awaits them in old age? The cars can apparently die, but do they end up in junkyards? For that matter, how are cars created/born into this world? One could go mad trying to figure this out, so I'll switch gears before I blow a gasket.
Lightning McQueen (Owen Wilson) is not the same hotshot racer he once was. His glory days are behind him as the sport becomes dominated by the next wave of speedsters, looking down with pity and contempt on the older models. The new champion on the racing circuit is Jackson Storm (Armie Hammer), enhanced with neon lights, the latest in high-tech automotive materials and expert training on a state-of-the-art simulator.
With all of McQueen's familiar racing pals having retired, and part replacement some unspoken taboo, the only option for the aged racer is to train. He's already done that before, but now he has teamed up with a spiffy new sponsor (Nathan Fillion) who will offer him the latest in car training that doesn't even require leaving a building. Teamed up with the eccentric trainer Cruz (Cristela Alonzo), McQueen is subjected to car treadmills, car exercises and car Zen-like meditation. A car is apparently not one with himself unless he names his tires.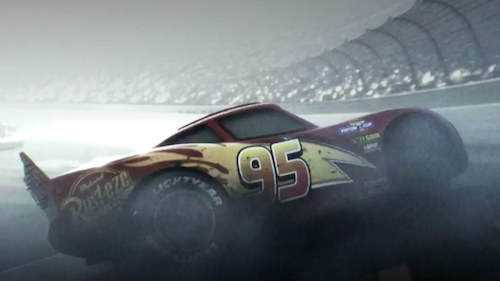 If this was intended as a grand send-off for the series, it's a little underwhelming that it plays as an atypical sports drama of a former champion making one last leap for the gold. It sticks so close to this formula that it seems to forget that this story takes place in a world of cars. What if McQueen has some problems with his engine? There's mention that leaking motor oil is a sign of being elderly, with drip pans akin to diapers. It never seems like McQueen actually has a real issue with age so much as he has a loss of confidence and focus on the track. Wasn't this his problem in the first movie? Returning to such familiar means of training and concentration gives the film a sense of deja vu and likens it more to a sports picture about returning to your roots. The first film that comes to mind is Rocky V, a film that even Stallone thinks is the worst of the series.
Related: Movie Review: 'The Mummy' Shuffles and stumbles with Monsters and Adventure
McQueen's training begins indoors with Cruz, but he takes the initiative to abandon technology and get his tires dirty for real racing. All these young cars and their fancy phones and video games are no substitute for the actual thing, a mindset that attempts to paint McQueen as an older fella. He brings along Cruz for his runs, but ends up teaching her more about how to drive on sand and how to drift. They form a solid mentor relationship, even if Cruz's bubbly personality appears as a replication of other Pixar pixies. I doubt that Cruz's mantra of "I am a fluffy cloud" will be as catchy or memorable as Dory's "just keep swimming."
One stop on McQueen's outdoor adventure is a demolition derby. Cars are locked in a cage of a track where muddy and dirty cars assault one another. This seems like it would be an intense action sequence, especially with biggest opponent being a horned school bus that collects license plates as keepsakes. And, yet, this scene is treated more like a silly hootenanny…where cars smash into each other.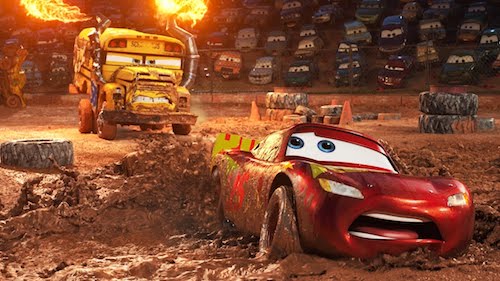 But, wait, wasn't McQueen in a horrific crash at the beginning of the film? How is it now funny that cars are smashed, dinged, toppled, crumpled, scraped and lodged into one another? This could have been a thrilling Mad Max style battle, but perhaps that's too intense for a G-rated movie about cars. I guess there needs to be some fun in this rather somber tale of nostalgia, considering McQueen's comic relief bucktoothed pal Mater (Larry the Cable Guy) is kicked to the sidelines for this picture, most likely a result of his piggish screen time in Cars 2.
Read more for the rest of the Cars 3 movie review: