"I
love you."
"I loved you before I met you."
-Actual dialogue from
Everything, Everything
The two teenage leads of this typical Bubble Boy drama could make a great couple if only they had a script. J. Mills Goodloe's screenplay, based on the best-selling novel by Nicola Yoon, gives them plenty to do, but nothing to say. Here are two kids who have spent most of their lives as outsiders and find themselves at a loss for words when they run off to the beach. The longer they spend loving each other, the less they have to say. They have to say they love each other out loud so many times that if the movie went on any longer they'd be making unintelligible baby noises in between their kissing.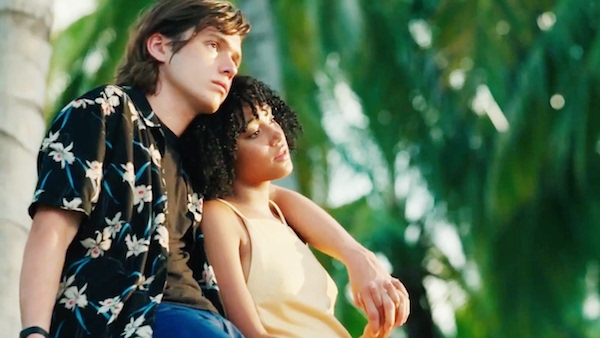 Before Everything, Everything careens into a corner of uninspired writing, it begins with likable enough characters. I liked Amandla Stenberg in the role of the quietly passionate Maddy, a teenager with a blood disorder that prevents her from leaving her sterile house. It sucks being perpetually grounded by your disorder, but there's plenty for this trapped girl to do in her surprisingly nice-looking home. Her mother, played by a quietly shrewd and emotional Anika Noni Rose, has done her best to design the interior to reflect the outside world with plenty of glass windows, nature-looking wallpaper and a wall of rocks that water can stream down.
Maddy spends her days reading books and designing architecture models. Online, she posts reviews of the books she read, but the most we see or hear of her writings are that of punchlines and spoiler warnings. For all we know, that could be the full extent of her reviews, considering not much of her book smarts will come into play for this script.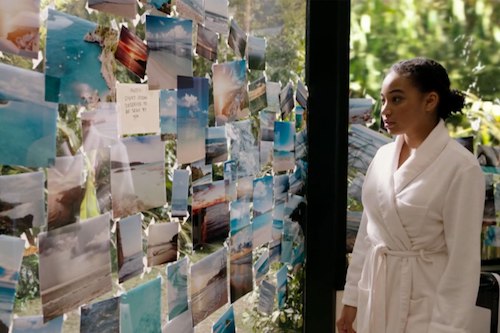 Her desire to leave increases when the cute looking boy Olly (Nick Robinson) moves in next door. They form a classic relationship from their bedroom windows, complete with tossing small rocks at the window for attention. It's easy to fall for a boy who can find so many ways to make a girl laugh with a bunt cake as a prop. Maddy's mom won't let such a boy in the house, but mom can't stay home all day. The friendlier nurse Carla (Ana de la Reguera) is much easier to convince to allow Olly in for a visit, agreeing only to such a meeting if there is no touching. Of course, this rule was made to be broken. As will the rules of not exiting the house and running away with a troublesome boy. The laws of this teen drama subgenre have preordained it.
Related: Movie Review: 'Alien: Covenant' Is Bloody, Intense & Thought-Provoking
But I didn't mind the movie treading down the familiar road once more as long as it didn't annoy or present contriving plot twists. This typical formula went down a little smoother with a more easygoing pace and tone to Maddy and Olly becoming a couple. There are no overly absurd moments of forced drama or terrible jokes. For the first act, the movie is mostly soft and gentle, passively letting the viewer in on Maddy's comfy inner world. There are even some nice set pieces where the typically boring scenes of reading text messages is replaced with a virtual environment of Maddy's imagination inside her architecture models. I didn't even mind that Maddy had to hold the audience's hand for explaining why there's an astronaut in all of her models and visions.
Read more for the rest of the Everything, Everything movie review: