C
hristopher Plummer
is such a fine actor that he seems gracious to share the screen with
Jai Courtney
and
Lily James
in this romantic war drama
The Exception
. His acting must have rubbed off on them as well as they're both surprisingly good for such subtle roles of a familiar tale. Their acting becomes the saving grace of a movie that could have been a dour retread of a period romance during a time of war.
Courtney plays Brandt, a Nazi captain sent to investigate the Kaiser (Plummer) for his loyalty to Hitler. The Kaiser is an innocent old man, finding more to be excited about in feeding ducks than talking about military tactics. He'll entertain Brandt's business talk and hear out some war strategies, even grant an audience with other top Nazis, but it's clear that the current regime holds little interest for him. While staying at the Kaiser's lavish estate, Brandt takes an interest in the newest maid Mieke (Lily James).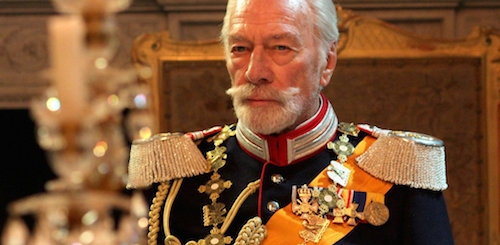 Their romance feels one-sided at first the way Brandt orders the woman to remove her clothes in private and slowly proceeds to ravish her. That's a sexy enough scene, but a later scene finds Mieke in control as she orders the soldier to undress. She can see through his tough exterior as his scars tell plenty of horrific tales that would haunt any man. Learning more about each other, their sex scenes become just as emotional as they are erotic.
Related: Movie Review: 'The Book of Henry' Is Clever, Inventive and Unpredictable
Brandt and Mieke keep their love a secret from the Kaiser and his staff. It becomes all the more crucial that they remain discreet when Mieke reveals she's not only a Jew, but also a spy working against the Nazis. Brandt is in disbelief to learn this, especially after they just had a steamy romp through the sheets. But their relationship has developed so well in the shadows that such devastating news couldn't shake their love, even if this discovery makes their bond a little harder to maintain during a time of war. They'll have to stay quiet, but not just for the sake of secrecy. Most of their dialogue is nothing special, echoing mediocre somber sobs and cold reflections of other war dramas. Their body language during their scenes of passion says more than any bland script could, especially with accents that are all over the place.
Read more for the rest of the movie review of The Exception: