The Fate of the Furious has more cars and stunts than ever! Read our movie review here:
Before the screening for The Fate of the Furious film began, an advertisement was played for a Fast and Furious live event to be held at arenas. The footage featured all the familiar stunts of the previous movies, promoted as a thrilling show where cars would perform all sorts of ludicrous stunts as some strange cross between a circus and a demolition derby.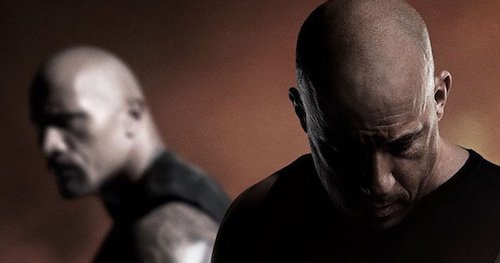 The stunts seem to have overtaken the humans for these movies and it's understandable given how intense and creative all these sequences are. They carry this film and will likely be carrying future installments for the long haul. Long after Vin Diesel and Jason Statham have passed on this series, the big draw will continue to be the sight of cars pulling more wicked maneuvers than Speed Racer with nitro in his coffee. And while these scenes still have a bit of fun to them, the gray hairs are starting to form on this series that struggles to make cars do more ridiculous things.
The action set pieces have to pull a bit of overtime with this installment, however, around to keep this average action plot a little more engaging. The whole gang returns to face a new enemy known as Cipher (Charlize Theron). She's probably one of the blandest villains of the franchise considering her plans and her personality. Her ultimate goal: To acquire nukes and hold the world hostage. Not exactly an original idea or even a cunning one based on how the stages of her plans involve causing mass destruction.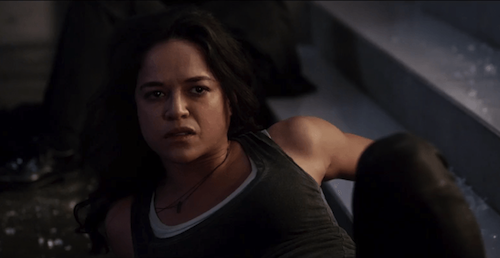 But I guess her scheme would have to be simple to utilize Dominic Toretto (Vin Diesel) as her muscle for her operations. Cipher pulled a few strings and played on Toretto's love of family to make him do her bidding, so her odds are at least better than the average Bond villain. I only wish she were more of a Bond villain so that she'd have a little more personality beyond her bland threats, passionless sexuality and infrequent tone. The most memorable thing about her is her hair that resembles spaghetti.
Meanwhile, the rest of the team is assembled to find Toretto and Cipher with the help of special agent Frank Petty (Kurt Russell) and his agency's unlimited supply of cool looking cars. Requiring extra help, the bitter enemies of agent Hobbs (Dwayne Johnson) and rogue assassin Shaw (Jason Statham) are forced to work together. Both actors are lovable in their genuine charisma, what with Johnson's smugly cuddly nature and Statham's hard-nosed sneering, but it felt as though there should be more to them than just trading insults. Most of their banter involves discussing foreign objects they loved to smash into each other's orifices. Such talk is fine for throwaway dialogue in the heat of combat, but not exactly the best for making character connections.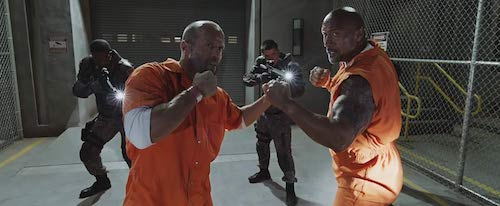 There's more for the rest of the characters to say than do. Roman (Tyrese Gibson) struggles with the frustration of only being number eleven on Interpol's most wanted list, but this leads to little more than lots of screaming and one-liners from the reliably funny character. A romance could have formed between hackers Tej (Chris Bridges) and Ramsey (Nathalie Emmanuel), but there's no electricity between their clicks and clacks of keyboards. Even Kurt Russell feels almost criminally unused as an agent that can do little more than comment from the corner with his greenhorn apprentice played by Scott Eastwood. So many wonderful opportunities for chemistry and wit are mostly kicked aside in favor of the most stock of action movie plots.
Related: Movie Review: 'Going in Style' Steals More Laughs than Substance
The stunts are far more engaging, creative and fun than anything human in this picture. Heck, some of the cars show more personality, even in a scene where a handful of them are unoccupied. Dom's crew latch onto Toretto's car with grappling hooks on their own vehicles, trying to both hold him in place and tear his car apart. Later on these cars will band together to form a shield against an explosion, protecting one of their own from the blast. Even the opening scene where Toretto drives a car backwards and on fire in a drag race is more admirable for the construction of the stunt itself as opposed to Dom's desire to win.
Read more to get the rest of The Fate of the Furious movie review: