T
he Hero
poses the very real and depressing question about the iconic Sam Elliott: What if he died? Would he be remembered as a great actor or only be known as the cowboy with the mustache that took comfort in the dude's abide? Would his last role be that of another cowboy, wearing the same hat and same clothing that seem to come as a packaged deal? Would he be buried in a cowboy outfit?
These are all questions that are most likely floating around in the head of Lee Hayden (Sam Elliott), an aged western actor that doesn't have much fight left in him. Approaching the age of 72, he's grown bitter and tired as an actor only known for one role in a western and dozens of voiceovers with a voice so deep and southern. The movie begins in darkness with his familiar voice for a BBQ sauce ad. He is asked to repeat this line several times for the recording, a standard procedure, but it's a sad example of his one-note career on repeat. Everyone knows him from movies, television and radio as a western icon, but to his pot-dealing neighbor Jeremy (Nick Offerman) he's just an old pothead who watches Buster Keaton movies.
All is not well in Lee's personal life when he finds he is diagnosed with pancreatic cancer. Not as enthused to be seeking treatment, he swallows his response whenever anyone asks how he is doing, redirecting the conversation to his aspirations of making a movie. He doesn't want to tell his ex-wife as he doesn't want to worry her and thinks it's too late to connect with his daughter.
It isn't until he meets the lovely Charlotte (Laura Prepon) that he finds a spark in his life. It doesn't take long for the two of them to hit it off, despite a massive age difference. Good thing Charlotte has a thing for older guys, a fetish that she can't help but bring up at her job as a stand-up comedian. You can probably guess how Lee feels about her making jokes about how hot it is to keep an elderly man's heart rate down in bed.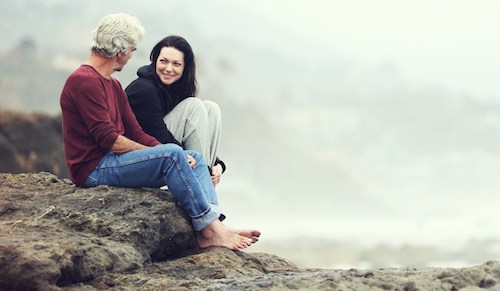 This is a film specifically geared as a showcase of Sam Elliot's talents, past his usually stellar supporting roles. We get to see a contemplative side of him as he finds himself aimlessly walking up a beach and dreaming of what he once was and may become. There's an emotional edge to him in how he breaks down into tears when thinking about his daughter. When accepting a lifetime achievement award, he becomes disillusioned with being so revered for his western image that he gets high and drunk to approach his speech with a "screw it" attitude. All his distance and bitterness paints a picture of a man that is much more than the stoic figure that fires guns and sells trucks.
Related: Movie Review: Everything, Everything is Forgettable, Forgettable
Read more for the rest of the movie review of The Hero: