Hidden Figures is packed with uplifting messages and inspiration. Read our movie review to find out why:
H
idden Figures
exists as a staple of classroom pictures about three smart black women who became an essential asset of NASA during the crucial space race. It's an important story of history, race, gender and science all rolled up into one pleasingly progressive and engaging drama. It fulfills all its essential goals of being informative, inspiring and genuinely entertaining.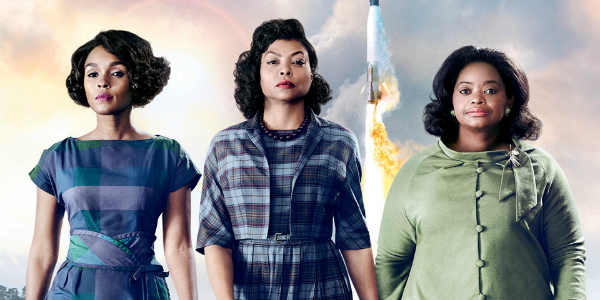 Director Theodore Melfi may emotionally bend this tale to fit all these notes, but it's hard not to cheer for the trio when they receive a police escort to work, one of them remarking, "Three Negro women are chasing a white police officer down a highway in 1961. That is a God-ordained miracle." Many miracles will follow and the movie does its best to make us root for them to keep coming.
The story follows three bright women who start in the colored-only computer division of Langley Research Center that soon find themselves expanding into the white areas of NASA. Katherine Johnson (Taraji P. Henson) is the shy mathematics genius that is soon called in for the most important of spaceflight calculations, under the eye of the crass and accepting Al Harrison (Kevin Costner). Her work is stellar, but can only go so far with workplace segregation on everything from coffee to bathrooms, the only colored bathroom being a long walk away. Only with Costner's gruff "We all pee the same color" attitude does her work truly begin to flourish.
Related: Movie Review: 'Silence' is an Unshakable Experience
Tech-savvy Dorothy Vaughan (Octavia Spencer) aspires towards a manager position, but is consistently denied despite her expertise. When a new IBM machine is brought into NASA, she spots the opportunity to wedge her way in as she starts learning the programming language. She sneaks in, fixes it up as no other engineer could and is well on her way to a top position where she can take all her black women co-workers with her. Meanwhile, the sly Mary Jackson (Janelle Monáe) is attempting to become a top-level engineer, but requires extra education to reach such a goal. She battles her way into the school with a few words and plenty of passion. The stories of Dorothy and Mary are not as strong as Katherine's, but are still satisfying struggles nonetheless.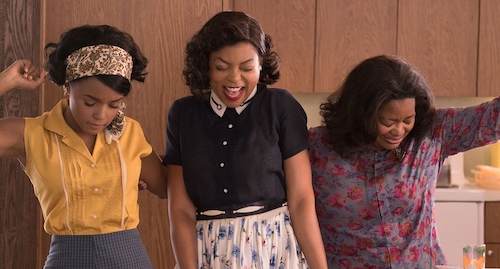 As a celebratory picture of women in science, Hidden Figures works rather well. The chemistry among the three women, sparse as these scenes are, have a genuine electricity with plenty of personality and banter. Their conviction in the face of grueling adversity is admirable – Dorothy tells her children that if they do right they will be right. Their genius abilities have a building tension with scene after scene of Katherine writing on chalkboards, the music swelling until the punctuating circling of the answer. There's a breezy and invigorating energy in the air to almost every scene where racism is bested and discoveries are made.
Read more to get the rest of the movie review for Hidden Figures and watch the trailer: