T
he Little Hours
has a decadent 14th-century setting with a hilariously dirty mouth, playing in the vernacular of a book report on
The Decameron
written by a filthy-minded high school student. In this world of convents, castles and witchcraft, the nuns run in cliques, the priests are drunks and the lords of castles have bickering marriage problems. Essentially, it is one consistent joke of comedy players evoking as many laughs as they can from the Dark Ages, but it's a joke that stands firm with a perfect cast behind it.
Aubrey Plaza slips on the nun garb as Fernanda, a reluctant girl who finds little to love while serving in a convent. The only time when she seems to feel in control is cursing and beating on the groundskeeper. One could argue that this is her outlet of the rage she feels for being sold into a convent, but it's ultimately just a funny sight to watch a nun scream at a peasant and treat him like garbage. Movie nuns always seem to be so refined and of quiet dignity that I couldn't help but crack up at watching one become a loud and bitter bully.
Related: Movie Review: 'Baby Driver' Is a Masterpiece of Music, Action & Speed
Fernanda ventures down crazier territory, further confounding her meeker co-worker of nun Alessandra (Allison Brie). She associates with witches, has late-night drunken parties behind closed doors and dabbles in sexual escapades of both sexes. In a drama, these scenes could make for a stirring tale of the female struggle to rebel in such an era. But since this is a comedy, all these scenes come with the perfect comedic punch lines.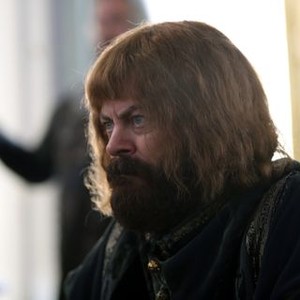 Elsewhere, Dave Franco plays castle servant Massetto, finding himself in bed with the wife of the castle's vengeful Lord, played with calm fury by Nick Offerman. It's always a pleasure to see Offerman on screen, but all the more hilarious as armored royalty that goes on about conquering his enemies and brutally slaughtering his betrayers with that iconic dry voice. Be it his intentions or his thick beard, Offerman is intimidating enough to Massetto for the meek and frantic boy to run away. Thank goodness the guards are too out of shape to be bothered to chase him or chuck a pike in his direction.
Massetto is lucky enough to run across the drunken Father Tommasso, played with great humility and hilarity by John C. Reilly. As with nearly every character in this farce, he's ill fit for running the convent with the way he passively performs confession and screws up selling cloth for goods as he chugs wine on his way through the woods. Tommasso decides to grant Massetto asylum in his convent, given that Massetto helps him through the woods and makes for a great drinking buddy. Nobody can slam back the blood of Christ quite like Franco.
Read more for the rest of the movie review of The Little Hours: