T
he story is familiar, but the world is rarely seen in movies and entirely in Yiddish. Menashe (
Menashe Lustig
) is a portly Hasidic Jew that has recently lost his wife. His ten-year-old son Rieven is taken out of his custody as the Orthodox Jewish community believes he is not fit to care for him without a wife in the apartment or a job that pays him enough. Looked down upon by the Jews of Brooklyn, a proper funeral for his wife might bring him back into their graces.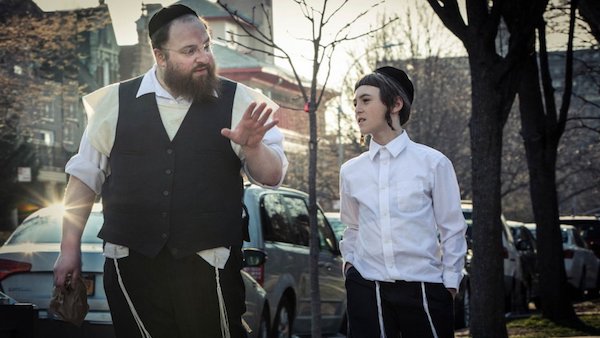 For being as steeped in the Hasidic Jew society of Brooklyn, Menashe's story is very relatable even for non-Jewish audiences. You don't have to know how kugel is made to feel for his inability to cook without setting off the smoke alarm. I didn't know about the tradition of washing your hands by the bed in the morning, but I could relate to Menashe's desperation in getting his son ready for school when all that's in the fridge for breakfast is cake and soda. He dates a woman he is not interested in, but goes along with it because his Jewish associates set it up for him as marriage could help him gain custody of his kid. I can only imagine how this information might come across on a dating website.
Menashe is a good dad, but not the kind of father most Orthodox Jews would prefer. When discussing readings with Rieven, he makes the lessons come alive by imitating the symbolized animals of the texts, much to the chagrin of the quieter and more dignified Jews. He questions certain Jewish laws about letting women have a little more control, for which he is quickly shot down by the elders. His balance of work and family doesn't work out too well when he tries to spend time with his son while delivering a shipment of gefilte fish that spills out into the street. You can probably guess how his begging for a loan from his boss after such an event goes down.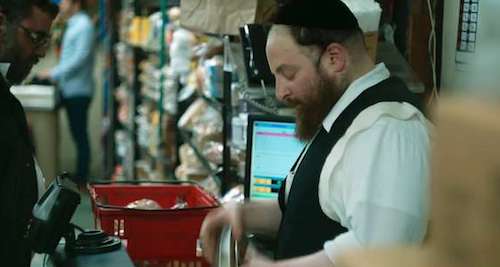 Most of these situations are relatable frustrations for any parent struggling to make ends meet, but they carry a little more weight and urgency as every action of Menashe is scrutinized by his peers. His brother Eizik (Yoel Weisshaus) continually berates him for not being attentive with his son or self-sufficient with his meager job. The Ruv (Meyer Schwartz) stresses that a good man must have "a good wife, a good home, nice dishes," for which Menashe is lacking in all three and feels guilty for not meeting the criteria. His boss at the convenient store despises him for his insistence on selling fresh vegetables and will only grant him more pay if he works the night shift.
Related: Movie Review: 'Detroit' Churns with Draining Violence and Racism
Some of this is part of Menashe's clumsiness and some of it is just bad luck, but I felt for every misfortune that fell his way. He's a sweet man with the will to prove himself, even if he ends up burning kugel on his first attempt.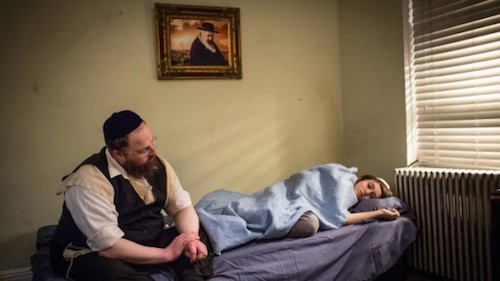 Director Joshua Z. Weinstein gives the film intimate detail and focus on the Jewish microcosm seen through Menashe's eyes. The cinematography inside his cramped apartment is cozy enough to get to know his perspective rather than taking it all in with wide shots. His apartment is a mess, but his life is so chaotic that he forgets about it and so do we as his life of constant Jewish traditions, work and study crowd his schedule.
Read more for the rest of the Menashe movie review: