Read our Moana movie review to get the full scoop on Disney's newest animated hit:
I
t has been exactly a week since I saw
Moana
and the musical number "You're Welcome" is still stuck in my head. I don't remember it being a particularly great song at the time, sung by
Dwayne Johnson
who wasn't exactly born to sing. But here I am still batting around the melody in my memory. Perhaps it really is a great song and I'll be changing my mind a year from now.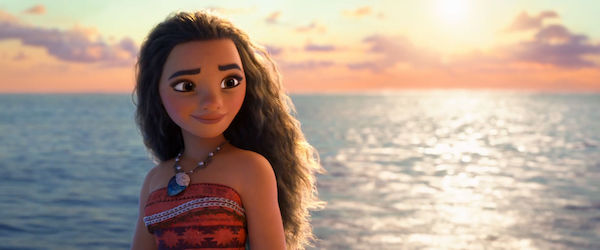 Directors Ron Clements and John Musker have done it again as they have with The Little Mermaid and Aladdin, creating animated movies that are undeniably memorable in one way or another. Moana is no exception as another stellar effort from these veteran Disney directors, aided by the talent of songwriter Lin-Manuel Miranda of Hamilton stage fame.
The film is a testament to both the classic traditions of the best Disney pictures and Walt Disney Studio's commitment to original content. Centered on Polynesian mythology, there's a magical stone, the Heart of Te Fiti, that must be returned to a goddess before the entire world is rid of life from a black plague that affects the sea and food. The young and plucky Moana (Auli'i Cravalho) takes it upon herself to both live her dream of sailing the seas and save her tribe, despite sailing being a big taboo of her protective chief father.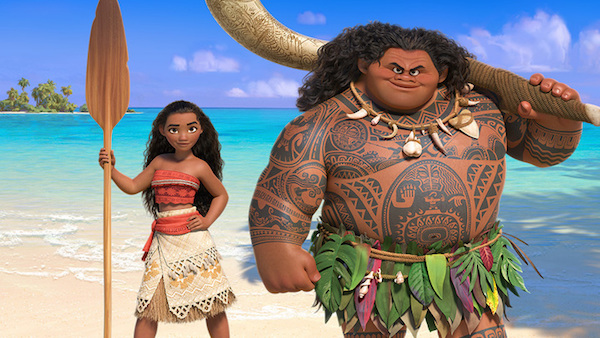 She'd much rather be out to sea than struggling to be someone else on land. Her gentle-yet-crazy grandma can see she's meant for grander things and helps push her off the island to find her destiny, save her tribe and all that classic hero jazz. She's not exactly the most memorable of female heroines with her rather standard arc of an adventuring itch coupled with moments of awkward "who me?" comedy. There's enough to like about her and her journey – I just wish there was more to her than just being the chosen one.
To stand a chance on her quest filled with all sorts of monsters, she enlists the help of demigod Maui (Dwayne Johnson), a cocky warrior primarily responsible for the dire situation of cursed seas. He's incredibly reluctant and full of himself, covered entirely by living tattoos of his boast-worthy adventures, but agrees to aid Moana in exchange for retrieving his magical fishhook that grants him the ability to transform into any animal. Johnson plays the beefy Maui with the right amount of smug and wit, a magnificent recovery from his previously embarrassing voice work on Planet 51. And the more I listen to his song, his singing voice is not too shabby. It will either grow on me or annoy me if it reaches the same levels of popularity as Frozen's "Let It Go."
Related: 'Moana' Out-Muscles 'Fantastic Beasts' in Weekend Revenue Race
Per the Disney tradition for these adventure pictures, which Disney playfully mocks in a few knowing jabs, Moana has some animal companions. A chicken follows Moana onto her boat and becomes a walleyed icon of comic relief, shrieking in terror upon witnessing the sea and stupidly stumbling off into the water every chance he can get. A white pig acts as a puppy for Moana, but is mostly kicked to the side as there isn't much comedy to derive from such a character. He'll probably make a better plush toy than a sidekick.
Moana features a lot of magic and mysticism, but plays very fast and loose with some of this logic. On her quest, Moana is given help at certain times by the sea itself, lending a helping hand by keeping everyone on the boat. But that's all the sea appears to do, despite clearly having a personality in how it keeps the chicken safe and cocks a liquid head in amusement. Can the sea understand Moana's language? It doesn't seem to respond when she angrily insults it by stating that fish pee in the sea.
Read more to get the rest of the movie review for Moana: