Is Split a terrifying look at multiple personalities or totally divisive? Read our movie review to find out:
M. Night Shyamalan has become a rather predictable director for his constant use of twists to resolve his pictures that it's become a bit of a game to spot the twist before the end credits. But I guarantee nothing can prepare you for the most left field of ludicrous plot twists Shyamalan has cooked up in Split.
It is a legendarily bad ending that deserves to be placed on the same pedestal as Remember Me and The Number 23. It's an ending so off-the-rails audacious that I almost want to recommend it for the amount of laughing and cursing I had towards the screen in an otherwise modest thriller.
Despite the only laugh-out-loud moment of end-credit insanity, Shyamalan's writing and direction is in surprisingly stronger form for the majority of the picture. James McAvoy plays Kevin, a man with 23 different personalities and enough clothing for all of them. That's a lot of roles for one actor to play, but the plot resigns him to a few key figures. Sometimes he's an easy-going fashion designer that is always friendly and chatty around his therapist Dr. Fletcher (Betty Buckley). Other times he's a glasses-wearing neat freak, strictly focused on cleanliness and keeping things sturdy. And in his more creepy moments he can be a spiritual woman or a dorky 9-year-old.
Three unlucky teenage girls get to see the most of these personalities when they are abducted by him after a birthday party. Claire and Marcia are typical teens who are desperate to escape while the outsider Casey (Anya Taylor-Joy) believes she can bide her time and convince one of the 23 personalities to let her go from his underground dungeon. Unlike most teenagers, there's a perfect balance of both terror and smarts. They're initially so terrified of Kevin when he first enters their prison cell of a room, but later start thinking intelligently about how to escape in more ways than one.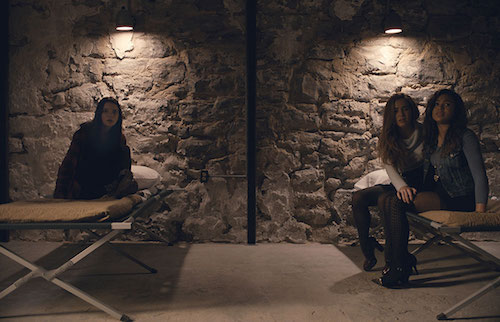 Claire and Marcia may not have as strong verbal skills as Casey, but they do have enough ambition to make a break for the door or find a way out of the rooms they're trapped within. It's a rare case of teenage girls in a horror situation where they feel much more in control of their actions as opposed to just making the typical mistakes to be caught and savaged. They still end up in their underwear so it's not wholly divorced from typical tropes.
Related: 'Hidden Figures,' 'La La Land,' 'Sing,' 1-2-3 at Box Office
Split is at its best when spinning the many mysteries of the situation. There's a constant questioning of McAvoy's character(s): which personality is dominant and how do they decide who gets to take over when? Dr. Fletcher displays great insight and interest in Kevin, but how much does she know about Kevin and how far is she willing to be gentle with him? What of Casey's history has caused her to be an outsider? What brought about Kevin's personalities for that matter? And where exactly are the girls being held? These are all intriguing aspects that are parsed out beautifully through the progressive dialogue and brooding atmosphere.
Read more to get the rest of the Split movie review and watch the trailer: