Where does Sully stand among Clint Eastwood's other films? Find out by reading this movie review:
W
hen
Clint Eastwood
directed
American Sniper
, he attempted to dig deep into the psyche of sniper Chris Kyle and let us in on his motivations as a soldier. He doesn't exactly provide the same treatment in
Sully
for the story of Chesley Sullenberger, the famed pilot who made the tough call of landing a damaged A320 on the Hudson River ("on" not "in" as Sully continuously suggests).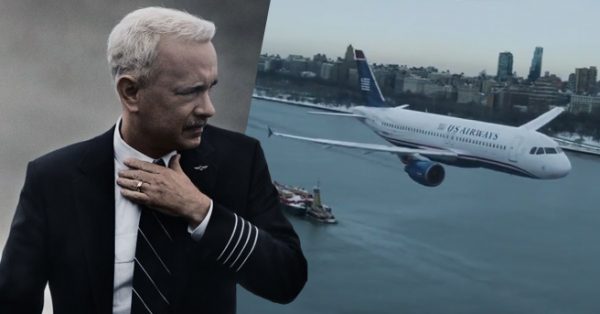 There doesn't appear to be much hidden behind his white mustache, trembling hands and doubtful face. Sully is portrayed as a humble man who doesn't see himself as a hero so much as a pilot who did what he had to do. The same could be said of Eastwood who never brings out the big dramatic guns for such a picture, filming a story he thinks deserves a movie rather than a story that would make a great movie.
One trait that Eastwood retains from his previous movies is a sense of subtlety with his actors. Tom Hanks melds seamlessly into the role of Sully by embodying the quiet man without any big scenes to steal. He trembles silently at the possibility of being wrong or making a mistake as he replays the landing in his mind. And yet he remains relatively calm when facing everything from an emergency evacuation of the plane to a grilling committee that questions his actions.
Joining Hanks is Aaron Eckhart as co-pilot Jeff Skiles who sticks by Sully for moral support and jokes, but never ventures too far into humor. The two of them trade smirks and chuckles as they face the media storm and NTSB trial together.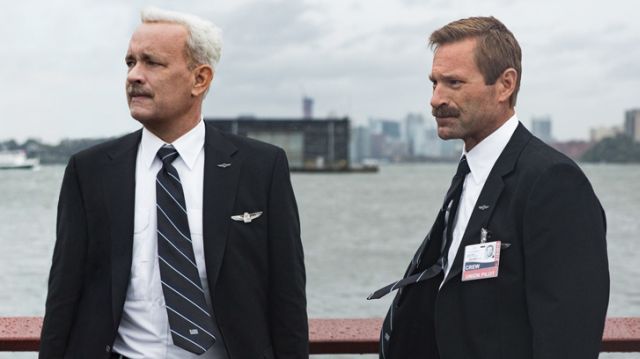 Hanks and Eckhart deliver such subtle and chummy performances that the secondary characters pale in comparison. To bring a smidge more tension and investment to the water landing, Eastwood does a minimal job at establishing a few of the characters on board and gives them micro-arcs for us to follow. A family of three is separated during the rescue. A chipper grandmother fears for the future of her daughter. A mother clings to her baby. I understand that Eastwood desires to make this a more whole story by focusing on the little elements, but he only gives them small nuggets of time to be invested in with very base dialogue.
It felt as though we should have spent more time with the secondary characters considering how many are focused on during the landing. Sully insists that it wasn't just his doing that saved all the souls on board, but the response of all emergency forces. For brief scenes, we get to know the people routing planes, the authorities that provided rescue by boat and the scuba-diving officers that helped hoist passengers out of the water. All combined, they're the real heroes and I felt that the movie should have spent a little more time with them.
Read more to get the rest of the movie review of Sully and watch the trailer: