The Smurfs are back for their third movie! Read our movie review to get all the Smurfy details of The Smurfs: The Lost Village:
A
s the first fully computer-animated Smurfs movie – a major improvement over the two previous live-action hybrid movies – I'll admit that
The Smurfs: The Lost Village
does match the original cartoon in many aspects. The characters appear more faithful in their cartoony nature, favoring eyeballs that run together, noses that jut outward and short legs with big feet. The evil wizard Gargamel and his sinisterly smart cat Azrael are as devious and comical as they were in the cartoon. Everything from the setting to the character motivations (limited as they are) is as faithful as a Smurfs movie can get. But were the Smurfs all that engrossing a cartoon to begin with?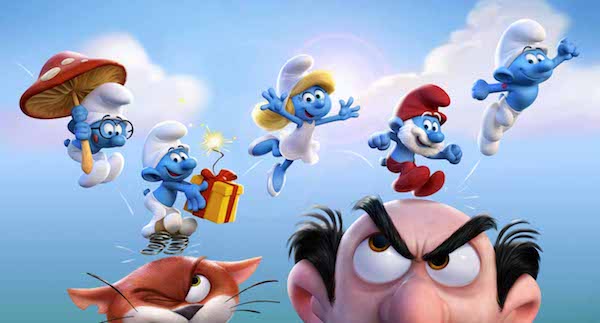 While the Smurfs were a staple of 1980s animated television – spanning the entire decade – they were a fairly simple concept that seemed to just barely hold a half-hour of programming. The spirited blue Smurfs, coordinated by their designations for specific functions of their society, do their best to live in peace in their mushroom community, trying to avoid Gargamel's grasp. As a kid of the era, it was enough to keep me entertained. As an adult, it's a premise that wears thin in retrospect. And as an adult watching The Lost Village, this fault becomes all the more apparent.
To be fair, the movie does address a long-held debate about Smurf lore: Why are there no other female Smurfs besides Smurfette? Not only is Smurfette the only woman among the all-boy tribe, but also she's a bit of a blank slate having previously been an infiltration creation of Gargamel. Whereas every Smurf knows exactly what they were born to do, Smurfette is distant from the rest of her clan in trying to find her niche. So, of course, she must discover a new tribe of all-female Smurfs in a secret part of the magical forest. To discover this tribe, she embarks on a journey with the more visually distinct Smurfs of Clumsy, Brainy and Hefty who must learn to not only work together, but also see Smurfette as more than just the local blonde without direction.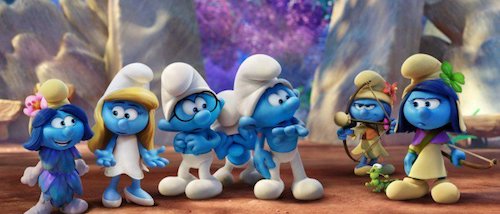 This is very much the Smurfette movie with a feminist edge. The female tribe is not a similarly peaceful collective, but one of tough and defensive women, armed with pikes and cautious of outsiders that make the male Smurfs remark "lady Smurfs mean business." The Smurfs begin the film describing Smurfette as someone who is good at nothing, later looking directly into the camera as they state she can be anything she wants to be. Sure, I like when a movie can support a message about girls being able to do anything, especially from a franchise where there was only one girl. But I think girls deserve something that doesn't pander either.
Also searching for the female tribe of Smurfs is Gargamel, but surprisingly not as cartoonish as Hank Azaria's portrayal from the previous movies. Oh sure, he does have plenty moments that made me smile, but the gags are more amusing on paper. The bulk of his comedy relies on the silly lines about being one step behind his cat Azrael and how his ego causes him to stammer, but Rainn Wilson can simply not do his character justice. Gargamel should be a cackling and devilish goof, per both the history of the character and the faithful design present in this movie. Hearing Rainn deliver such a lackluster performance for such a funny character is rather shocking from a usually comedic actor. He can perform deadpan dorkiness with gusto, but isn't as multi-talented to play a one-toothed wizard bent on capturing little blue creatures.
Related: 'The Boss Baby' Takes #1 Spot in Opening Weekend Smackdown
The same goes for the rest of the cast that doesn't deliver strong performances, but I suppose they couldn't for being so tightly wedged into atypical cartoon roles. Joe Manganiello feels fitting in the role of the muscle-obsessed Hefty, but tries too hard to push the tough guy voice that his casting seems almost pointless. Jack McBrayer does his usual blubbering as Clumsy, but I've heard him do much better in this same type of role. Danny Pudi seems to be putting the most into his role as Brainy and while he does fit the character well, he never really breaks out in such a role either.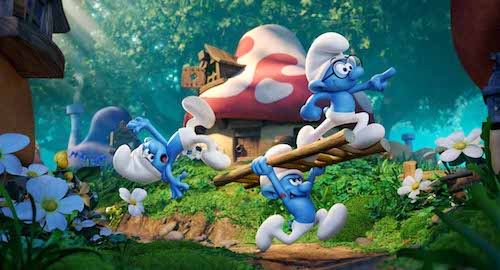 And the casting of Demi Lovato is a solid choice for Smurfette, but this role seems pointless if she's never given a moment to bust out with a song, considering the lyrically heavy soundtrack. Shouldn't she be the one singing the closing song "I'm a Lady" and not Meghan Trainor?
Read more for the rest of The Smurfs: The Lost Village movie review: