I
t occurred to me while watching
The Trip to Spain
that
Steve Coogan
and
Rob Brydon
are the most natural of funny British actors. Even though they're essentially playing semi-fictional depictions of themselves in the Trip movie series, there's a grace to their comedic banter and frustrating plights that rings too true.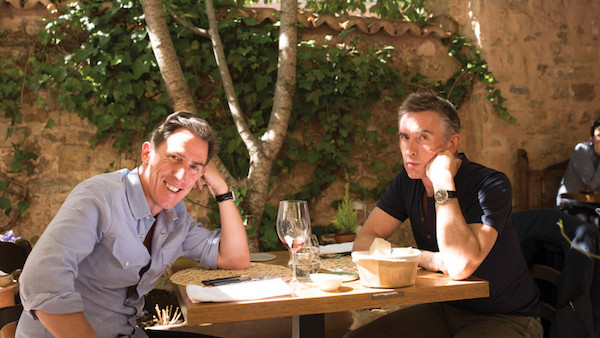 The filmmakers could tell me this was a documentary and I'd almost buy it because Coogan and Brydon are that good, playing off each other with an unmatched chemistry. That's saying something for a film series where the two talents spend nearly their entire film at dinner tables trying to perform impersonations. They work and work and work on these voices and bits until they've got them just right to amuse themselves and anyone within earshot. Their riff on Tom Hardy's portrayal of Bane in The Trip to Italy is probably one of the biggest laughs I've had of the decade.
Perfectly assembled from episodes of the TV series, The Trip to Spain finds Coogan and Brydon back on the job for reviewing food across the country of Spain. The plot and the characters are about as interested in the food as My Dinner with Andre was about dinner. Even the addition of the two having to pose for a photoshoot as Don Quixote and Sancho Panza is not all that punctuating either. And even their arcs of Coogan struggling to sell a screenplay and Brydon dealing with family life pales to humorous bits over dinner.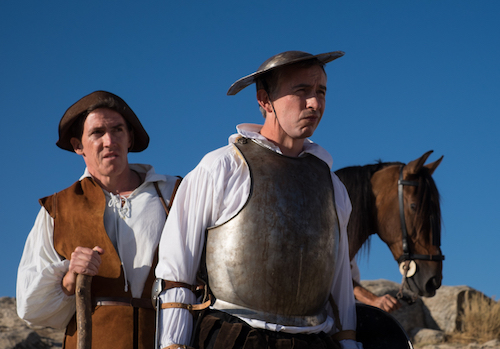 It's not that any of these plot developments are boring or even poorly executed. But when Coogan and Brydon start up with their impressions, the entire story stops for some of the most hilarious segments of any modern British comedy.
The most prominent impression the two try this time is Roger Moore, perfecting their delivery and tone for any conversation. And then a perfect moment arises for using it. While Coogan tries to impress some ladies with his knowledge of Spanish history, Brydon breaks into the conversation as Moore and continues to talk and talk and talk over Coogan until he's not amused. This only makes the bit funnier as Brydon doesn't know when to stop, pissing off Coogan by refusing to shut off the impersonation valve. It's a smart move on the filmmaking side as they must have realized the Hardy bit from The Trip to Italy had such a magnificent lifespan for an extended period. They leave the comedic faucet on for quite some time and it's nothing short of miraculous how long it can be funny, long past the point of Coogan enjoying Brydon's voice.
Related: Movie Review: 'Menashe' Is a Yiddish Masterpiece of Single Fatherhood
Another voice they try out is Mick Jagger, but Brydon starts it off with a story about how Jagger was trying to do a Michael Caine impersonation, only for Brydon to fire back with his more perfected Caine. During this conversation about that conversation, Coogan will chime in with his own attempt at Jagger. All of this starts with a simple mention of Jagger having kids over lunch. They'll additionally do impressions of David Bowie and radio personalities talking about the top hits of the 1960s at the top of the hour.
Read more for the rest of the movie review of The Trip to Spain: