Does Unforgettable live up to its name? Read our movie review to find out:
U
nforgettable
has all the ingredients of being first-class trash. It lifts a
Fatal Attraction
style plot, which leads into a crazy ride of obsession, sex and knife-wielding violence. I started to get excited when I realized these over-the-top elements could combine to form a wicked and weirdly terrible film that is destined for campy parties of wine and laughs.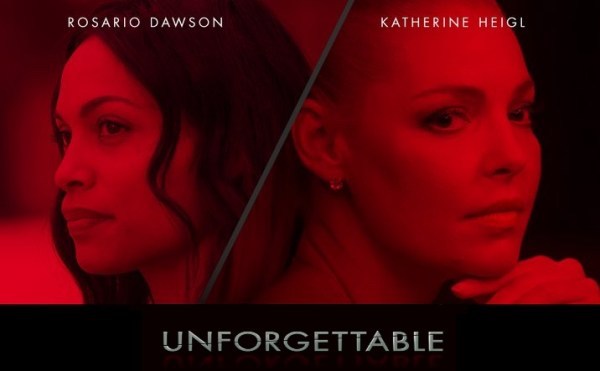 To my disappointment, however, director Denise Di Novi attempts to make the characters at play more grounded and tame before all the craziness launches the movie into the stratosphere by the third act.
I know I should feel appreciative that Unforgettable gave me a reason to be invested in the plight of new wife Julia (Rosario Dawson) and her competition of ex-wife Tessa (Katherine Heigl). Julia leaves behind a darker past and another city to marry her love David (Geoff Stults) and try to be a great step-mom for his daughter Lily (Isabella Rice). She's a likable enough woman and doesn't seem very flaky or fearful (or interesting) for pursuing such a life.
On the opposite end of the spectrum, Tessa is a mental mess of a glamorous witch that coldly holds back on most of her hatred towards Julia and David. Her fury seems to be born from her strict mother and her love/hate psychotic relationship with her ex-husband. Dawson is as charming as always in a suitable role and Heigl is surprisingly effective as a psychotic ex-wife.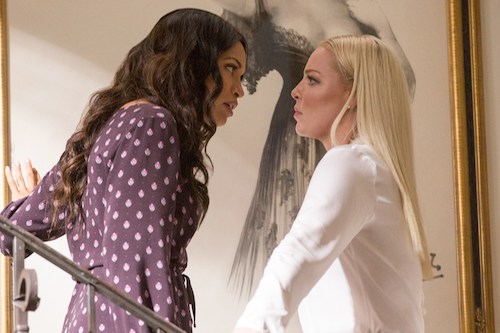 I should appreciate that the characters are more flat than bonkers, but it only filled me with dread for the lunacy that would follow. Tessa begins her assault of toying with Julia's mind by snatching photos off her phone, staging a Facebook account in her name and spreading stories to confuse both Julia and David. But she seems fairly passive to pick up a knife and kill others, despite no previous experience at being a killer.
Julia is a character I wanted to root for, but not as the action star she turns into in the movie's ridiculous final fight scene. What's the point of trying to stage Julia and Tessa as women with painful backstories and deceptive minds if it all amounts to them stabbing one another?
Read more to get the rest of the Unforgettable movie review and watch the trailer: