Ready for action, one-liners and dope-ness? Read our movie review of xXx: Return of Xander Cage for all the good stuff:
There's a smirk on Vin Diesel's face and a twinkle in his eye for the constant awareness of the movie he is making. He knows as much as we do about what to expect from such a picture. He knows we don't really care about some terrorist plot to use satellites as missiles and are more interested in watching him pull off ridiculous stunts. Samuel L. Jackson even flatout boils down this formula: "Kick some ass, get the girl and look dope while doing it." And xXx: Return of Xander Cage is most certainly dope.
Diesel reprises the role of Xander Cage, retired from the xXx program as a man who now uses his extreme sports skills to steal cable for poor villages. He mountain skis and downhill skateboards away from security forces guarding the tower, just so they can watch the big football match. I can only imagine how he goes out to get groceries.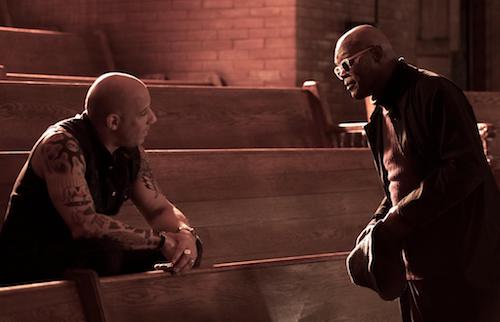 He's called back to the secret government program after a group of outlaws has broken into the CIA HQ and stolen a device that can drop satellites from the sky. It's a standard MacGuffin given the very boring look of a big hard drive and dubbed with the most generic of titles: Pandora's Box. Where did this device come from and how does it work? Nobody knows and nobody cares. All that matters is getting back that box and keeping the "dope" levels high.
The shrill, no-fun-allowed CIA recruiter Jane (Toni Collette) manages to convince Cage into taking on the mission of finding Pandora's Box, but not unless he has a crew as crazy as he is. He's provided with a team of elite soldiers, but they're no fun as his questioning reveals none of them have done sweet BMX tricks. His colorful team consists of a teal-haired sniper chick (Ruby Rose), a gung-ho former rugby player (Rory McCann) and a fast-handed DJ with the special ability of being "fun to be around". Why the DJ? Because the movie needs a slick soundtrack and someone to spin records for the rave scene.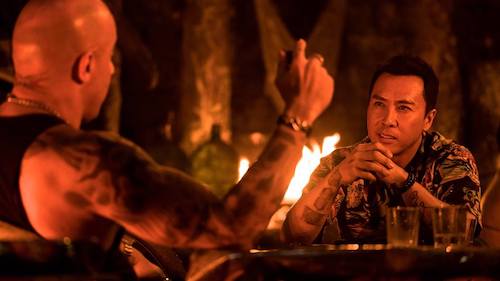 Xander's targets are a rogue group of outlaws led by Donnie Yen. Yen has conflicting views about Pandora's Box as does his female follower (Deepika Padukone), both debating about whether to keep the box or destroy it. But the movie never slows down to wholly question his motivations and for good reason. A rather standard and boring conversation about national security between Yen, Padukone and Diesel is made all the more exciting by playing a game of grenade hot potato during talks. Their conversation continues over an aquatic bike chase from Russian soldiers as they zip through beaches and over tidal waves. Because Donnie Yen is so likable, he will eventually agree to work with Diesel against a larger threat, but not after they have a fist fight in front of oncoming traffic.
The only element distancing the return of xXx from Diesel's current Fast and the Furious franchise is the theme of the characters (and Diesel's name-branding tattoos). Fast and the Furious was all about "family" while xXx seems to be more about trusting nobody except the weirdos. Other than that, this picture mimics the endless carnage of the FF movies, all the glee and absurdity included.
Diesel gets in plenty of big punches while shooting lots of guns, performing lots of stunts and slinging lots of one-liners. These one-liners could be groan-worthy, but Diesel sells them all with enough spirit and energy that even the most cornball of lines become lovable. But in the fight department, Yen clearly steals the show with some intense martial arts and just as much sass as Diesel. The movie practically blows its wad early with Yen smashing through the glass into a boardroom and taking on an entire room of gun-toting suits with his fast footwork and gunplay.
Read more for the rest of the xXx: Return of Xander Cage movie review: