M
aking out in the back of a movie theater is a pretty common thing, but
Amy Schumer
brought her kissing front and center at the
MTV Movie Awards
last year. Schumer planted a wet one on
Amber Rose
, who was seated next to her.
The pair were evidently targeted by the "Kiss Cam" during a commercial break, and neither one of them backed down from the challenge.
Schumer is celebrated the one-year anniversary of the lip-lock by posting a photo on Instagram.
The MTV Movie Awards aren't shy about some lady-on-lady lovin'. In 2003, the Madonna and Britney Spears kiss made many viewers gasp.
Though Schumer probably considers herself a winner for landing a mini makeout-sesh with a gorgeous model last year, she didn't end up taking home the award for "Best Kiss" at this year's MTV Movie Awards.
The comedienne was nominated along with Bill Hader for their performance in Trainwreck. Instead, the "Best Kiss" award went to Rebel Wilson and Adam DeVine for Pitch Perfect 2…and they celebrated their win quite thoroughly.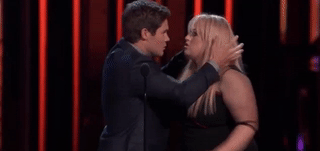 Other highlights from this year's awards ceremony, which was hosted by Kevin Hart and Dwayne "The Rock" Johnson, include several big wins for Star Wars: The Force Awakens.
Star Wars took home "Movie of the Year," with Daisy Ridley winning for "Breakthrough Performance" and Adam Driver nabbing "Best Villain."
Best female and male performers were Charlize Theron (Mad Max: Fury Road) and Chris Pratt (Jurassic World), respectively.
Get the full list of winners here.
–MovieSpoon Staff