A
t
CinemaCon
earlier this week,
Megan Fox
revealed a growing baby bump. However, rumors about who the father is flew since she is in the midst of divorce proceedings from
Brian Austin Green
, whom she already has two children with.
Fox kept silent at CinemaCon, letting the bump speak for itself. The actress addressed jokes about her baby-to-be's parentage by posting on Instagram.
Will Arnett, pictured above in the Instagram photo, co-stars with Fox in the upcoming Teenage Mutant Ninja Turtles: Out of the Shadows. The actor responded to Fox's post with a joke of his own.
"She said I'm not the father? That's news to me," Arnett said.
Now Fox has revealed that the father is in fact Green, but the new pregnancy doesn't change much as far as their divorce plans go.
Fox filed her legal documents in August of 2015, so given her current state, it seems she got pregnant after already filing.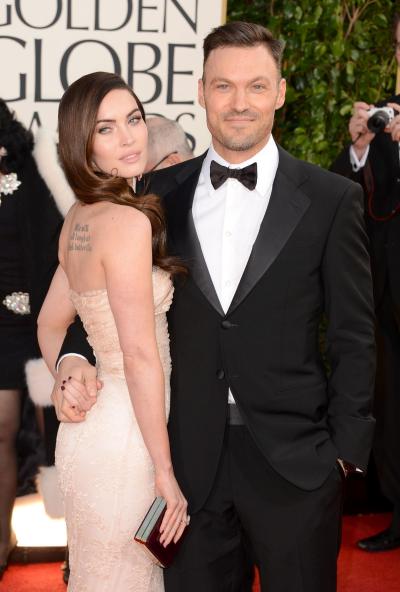 The reason for the split is reportedly the classic "irreconcilable differences," with the date of separation being June 15, 2015. The couple have requested joint physical custody of their two sons, Noah (3) and Bodhi (2).
A friend of the pair said the pregnancy was unplanned, but "when they found out, they were extremely happy." Therefore, the divorce "would likely be put on hold for a while. They are working really hard to be together and one unit–not only for their children, but for each other."
Fox seems to already have motherhood within Hollywood under control. With her two sons, she has expressed a desire to try to remove them from social media and limit television time, but the actress has yet to explain to her kids what she does for a career.
"They have no idea what I do. Somebody at their school will tell them eventually, but then it won't mean anything because they've been around it their whole lives, so they'll be like, 'OK. I'm still embarrassed of my mom.'"
–MovieSpoon Staff