A
fter the big
Oscars
screw-up over the weekend, viewers everywhere joked, "Well,
someone
is getting fired." Turns out those predictions were true.
PricewaterhouseCoopers
just gave the boot to the accountants responsible for the mix-up.
PricewaterhouseCoopers (PwC), a professional services firm, has been involved in the Oscars for years. They are responsible for tabulating voting results, preparing envelopes with the winners inside and handing them off to the presenters.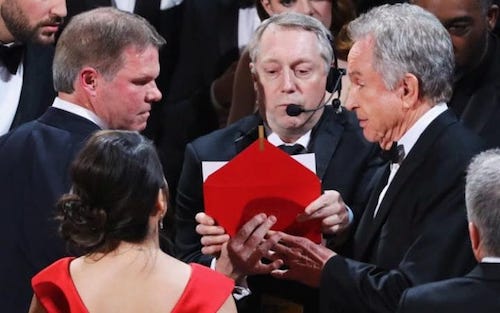 As everyone now knows, somehow the wrong envelope got to Faye Dunaway and Warren Beatty when they were presenting the Oscar for Best Picture, resulting in a fiasco. Now PwC has revealed that the two accountants handing off the envelopes, Martha Ruiz and Brian Cullinan, will never work at the Oscars ceremony again.
However, the two will retain their jobs at PwC. In fact, the pair currently are under PwC's protection. Their personal addresses were posted online, and PwC assigned security to help protect them from any rabid Oscars fans.
Read more to see the Oscars' big mistake: