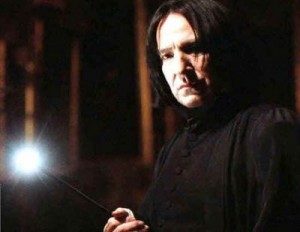 In 2001, I personally discovered Alan Rickman.
As sadly confessional as that sounds, I like to think that I discovered this un-known gem of an actor, although he obviously had some stage credits behind him. This was like my discovery of Liam Neesan after the release of Schindler's List. I instantly figured I was the one who really discovered him and he was now bound in some distant way to my appreciation of his (until that moment) hidden talents. What an craftsman! What an actor! And what a voice!
But with Rickman, I had a secret connection with him and with Severus Snape, the dark and frightening teacher he played in eight Harry Potter movies.
OK, I discovered Rickman along with a few hundred million others, when he first personified Snape in "Harry Potter and the Sorcerer's Stone," in 2001. But I was very, very late in the game. Rickman, who died this week of cancer at age 69, already had legions of adoring fans from a storied career on stage and in film. Along with comedic and leading man roles, he was one of Hollywood's greatest bad guys in several films, including those eight Harry Potter features and the role of Hans Gruber in the Bruce Willis film Die Hard, which was not a film I ran out to see.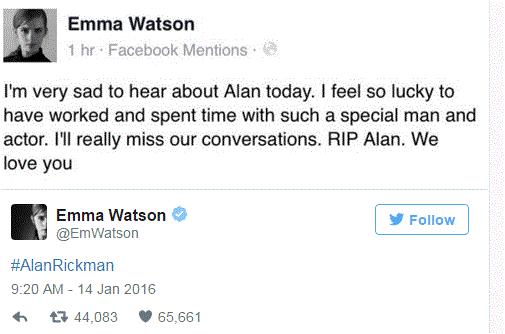 Yet, he could play both sides of the coin. He was such a devastating leading man that co-star Lindsay Duncan, who played opposite Rickman in Les Liaisons Dangereuses in London said those watching the show would leave the theater wanting to have sex "and preferably with Alan Rickman."
The actress Helen Mirren, who played Cleopatra opposite Rickman's Marc Antony, summed up his ability to play both adorable and evil characters by honing in on what many found his most compelling feature: His voice. Mirren said that his voice "could suggest honey or a hidden stiletto blade, and the profile of a Roman Emperor."
Many other tributes are now pouring in for Rickman from colleagues who recognize talent when they see it. Rickman has countless fans, but he was an actor's actor, loved by his peers, who describe him as a creative, funny, intelligent, generous and compassionate man.
Harry Potter co-star Daniel Radcliffe posted a lengthy tribute to Rickman online and said that the actor "was so encouraging of me both on set and in the years post-Potter. I'm pretty sure he came and and saw everything I ever did on stage both in London and New York. He didn't have to do that."
As one of the millions in the audience, what I saw in Rickman was an actor who really savored his lines, demanding the audience – and the students at Hogwarts – pay attention to every syllable as he honed the depths of Snape's delicious loathing of Harry Potter and his impish friends. As Snape, Rickman was compelling and dark, cooking his menacing part to absolute perfection.
And how I pleaded with my kids while watching film after film, for Snape to become the heroic figure in the end! I had not read the books, so I did not know what was coming. Then, when Snape killed the beloved Hogwarts headmaster Dumbledore, I was devastated. I felt betrayed to my core!
The story is very, very personal. As a youngster, I was put in a position of choosing a teacher in a boarding school to represent me in an intense situation after another teacher, who was drunk at the time, had punched me a few times. I choose a young, hip, very likable teacher to go to bat for me and, despite his intentions, he wasn't up for the challenge. In the end, perhaps unwittingly, he sold me out.
A few weeks later, a teacher I thought was frightening came up to me and said that he was disappointed I had not turned to him in my hour of need. His eyes were sad as he said this and a lesson was seared right then and there into my soul that has stuck with me ever since: People should be judged by their loyalties, not by their manners. As such, the frightening teacher Severus Snape, in film after film, was my guy all along.
And Rickman, who often played complex characters, was all that I needed Snape to be. I wish I'd known this man's talent all along. As Snape, he was compelling, dastardly, dark, brooding, menacing, complicated and kind. In the end, it turns out, he had us fooled all along. And isn't that what great acting is all about?