Waiting for Hacksaw Ridge to hit Redbox? It's coming soon! It's almost time to get Oscar nominee Hacksaw Ridge at Redbox for just $1.99.
Hacksaw Ridge hit theaters over the holidays. That's a crazy time of year, so thankfully it's coming to Redbox. So don't worry if you missed Mel Gibson's latest war movie over the holidays. You can rent Hacksaw Ridge on Redbox very soon!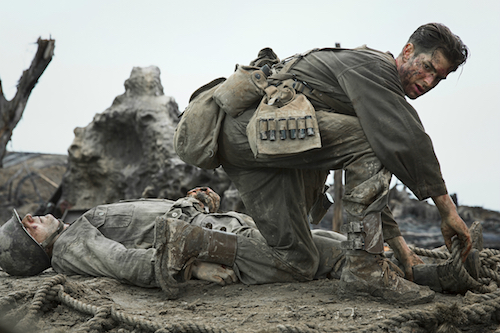 Renting Hacksaw Ridge on Redbox also means you can watch it more than once. It's a dramatic movie, so if you need to take a breather, you can just hit pause.
Starring Andrew Garfield in the title role of Desmond Doss, Hacksaw Ridge brings this true story to Redbox. Desmond Doss is a World War II Army Medic who refuses to use guns due to his religious beliefs. However, he proves that he can still fight for the United States without firing a shot.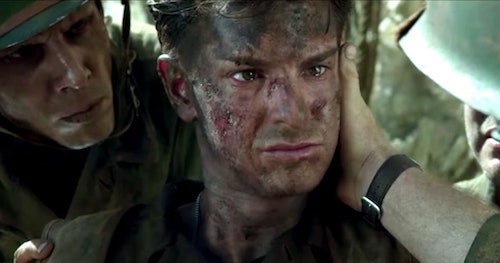 Despite being really graphic, the movie was a commercial and critical success. Mel Gibson was pretty controversial in Hollywood for a while, but Hacksaw Ridge proved he can still make a good movie. Andrew Garfield received an Oscar nomination for his performance, and the movie itself was nominated for Best Picture. Rotten Tomatoes gave the movie an 86% "Certified Fresh" rating.
Related: Movie Review: 'Hacksaw Ridge' Booms with Brutality, Faith and Pacifism
At the box office, Hacksaw Ridge did pretty well for an R-rated movie. Worldwide, it pulled in $163 million. But if you didn't see it in the theater, you can rent it on Redbox on February 21, 2017. Be warned, it can get pretty graphic at times, so make sure the kids are in bed before popping in the DVD.
Take a look at the trailer for Hacksaw Ridge:
Check out more MovieSpoon Redbox picks and here and like Hacksaw Ridge on Facebook.
–MovieSpoon Staff