If Marvel's Thor was a watered down Shakespeare with a surfer glaze, Black Panther is the real deal. It's a tale of kingdoms and ancestors, where men of sordid family histories battle for the throne. At the same time, it's also a James Bond film of gadgets, casinos, and chases with sexy cars. But, wait, it's also profoundly political and racial with elements of xenophobia and colonialism. The only thing more astounding than seeing all of this present in a Marvel superhero film is that all of it works incredibly well and serves as Marvel's most influential and most groundbreaking of comic book films.
After the events of Captain America: Civil War, T'Challa (Chadwick Boseman) has some cleaning up to do at home before he can jump back into the Black Panther superhero suit. His father dead, he must take on the mantle of king of Wakanda. To the rest of the world, Wakanda is a third-world nation, but hidden behind a holographic shield is a thriving metropolis built on Vibranium, the same substance used for Captain America's shield. Even with all their tech, Wakanda is still a land of tradition and T'Challa must prove himself in shirtless combat atop a waterfall to be the king of his people.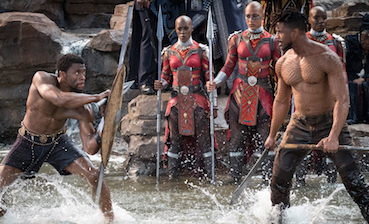 Governing a metropolis overflowing with Vibranium, he must keep at bay the cackling Klaue (Andy Serkis), a sinister dealer that fancies Vibranium and brandishes a fake arm that houses an energy gun. He could very well be our standard villain for T'Challa to foil, but he thankfully isn't the true antagonist. That title goes to Erik Stevens (Michael B. Jordan) or Killmonger as he's better known from the comic books. He is easily one of the best villains in the MCU for his pathos and plight that make some solid points. Having grown up on the streets when dear old passed was murdered, Stevens blames Wakanda's closed nature for his dark childhood and the ills of the world. It's a notion that T'Challa must weigh and not merely brush aside as a typical villain monologue. Sure, it's easy to go against Killmonger once he enacts his plan of ruling Wakanda and plans to dominate every country with Wakandan technology, but his argument about the nation being xenophobic is a strong one that can't be denied.
While Black Panther does adhere to a few familiar formula aspects of the MCU, its script manages to be original for focusing more on a classic tale of kingdoms than a quippy cape adventure. There's faith in the direction to plow ahead with its drama of bloody family histories and raw emotions of clashing cultures, evading the usual stammering jokes to poke fun at the fantastical. I had my worries with the rebellious tech Shuri (Letitia Wright) and the outsider CIA ally Everett Ross (Martin Freeman), but they thankfully never grind the picture to a halt with their silly mannerisms. By that same token, T'Challa's female forces of the stoic Okoye (Danai Gurira) and the emotionally driven Nakia (Lupita Nyong'o) never mug for the camera that much. They know they're badass and don't need to add a pointless exclamation to stress this point, doing more talking with their fists than forgettable banter.
The look of Black Panther may be one of the most thoroughly realized and gorgeous looking settings of any Marvel movie. The balance of otherworldly technology and African culture creates a unique mixture of a colorful utopia. Shuri's lab of Wakandan tech is the most remarkable of locations, dressed up like a fancy loft with its winding stairs, circular platforms, and colorful walls that make the lab appear as an art installation. The various costumes of Wakanda are fantastic and believable of what an African culture would look like if they had a boom in industry; one of the representatives of the tribes brandishes lip discs and fancy suits. The customs are rich with intrigue and mysticism, as with the ceremony where the new king must be buried in sand to communicate with his ancestors. Even the technology itself has a specific purpose and function, as with the mining train system that uses an elaborate means of light to transport Vibranium at high speeds.
Of course, it wouldn't be a Marvel movie without some superhero action, and there's just enough here to please. The car chase through the streets of South Korea is exciting with Wakandans using their tech to manipulate cars and Black Panther leaping from one vehicle to another. T'Challa's suit comes equipped with armor that is not only strong enough to take a bullet but also take that kinetic energy and use it against his enemies. The battles cliffside are the most exciting of all with raw warriors in combat for the throne. And though the climax settles on a large-scale battle of pike-wielding warriors and armored rhinos, it's a final fight that feels more earned than necessary for all the drama stirred up to this point.
With a big production and a story heavy with race and politics, Black Panther is a risky gamble of a superhero picture, but the bet on black paid off greatly. Unlike Wonder Woman, which merely placed a leading female within a typical superhero popcorn blockbuster, there's a real influence, and meta-storytelling is going on, so that isn't just another Marvel movie with a refreshing African coat. It's an inspiring tale of old-fashioned kingdom drama, well-choreographed action, dazzling fantasy, and an ending that is deeply profound for the impact you'd want to see an actual hero make in the world. It's been stated that a lot of black children are going to be attending this film in droves. They'll be pleasantly surprised to see that they're not just getting an all-black comic book movie, but one of the best comic book movies of the year that will give them more than just a satisfying dose of fists and explosions.