If the midnight screenings at the local arthouse theaters are anything to go by, The Room is the 21st century's Rocky Horror Picture Show. A week before the press screening for The Disaster Artist, there was a special theatrical showing of The Room that came with the note "Party Atmosphere." If you've ever been to the screening of a cult movie, you know the type of movie-going experience I'm talking about. Audiences dressed up in costumes from the film cheerfully quoted nearly every hilariously-delivered line of bad dialogue and hooted and hollered with every scene of unintentional comedy. It's a film so audaciously bad that it's somewhat charming for its earnest and placed director Tommy Wiseau on the map, though not at the exact destination he wanted.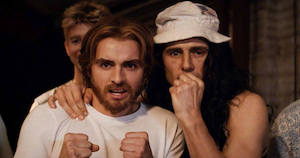 Based on a biography of the film's production, The Disaster Artist follows the relationship of amateur actors Greg Sestero (Dave Franco), an average all-American guy, and Tommy Wiseau (James Franco), a lanky, long-haired guy with a European accent of indeterminate origin. They first meet at an acting workshop, proving they're both terrible in front of the class. Greg, however, admires Tommy for his fearlessness to get up on stage, scream "Stella!" repeatedly and nearly destroy the set in his rage. There is an undeniable tenacity and ease to Tommy's acting, despite the accent and his inability to read jokes or references. It doesn't matter to Greg; he wants to learn that fearlessness. Tommy teaches Greg promptly by making him perform a reading aloud in a diner, weirding out the patrons. The two actors are still awful, but they're awful together.
Tommy lets Greg into his life as they become partners in acting, but only to a certain degree. He gives Greg strict instructions not to ask too much about him, including how old he is, where he was born and where his money comes from. His stock answers: Greg's age, Louisiana and none of your business. Greg doesn't question it much considering how ambitious and wealthy Tommy is about his lifestyle. They become inspired by James Dean to visit the location of his death and Tommy offers to drive there at that very moment. The two of them aspire to be great actors in Los Angeles, and Tommy already has a downtown apartment paid for. Nobody will hire them for a movie and Tommy decides to write, direct and finance his own film, The Room.
Tommy has all the makings of a classic bad movie director for his lacking moviemaking knowledge, ambitious spirit, and bottomless bank account. Nobody is entirely devoted to Tommy's vision. Script supervisor Sandy (Seth Rogen) tries as hard as he can to pull back from exploding on Tommy's inefficient and crude tactics for shooting his film, but others do not fair better. Tommy is a mercilessly egotistical and cruel man on the set. He complains about his beautiful actress having a pimple, refuses to turn on the air conditioning and sets up his own personal toilet in the studio.
What's most shocking is his awareness of what he is doing from learning by the examples of others in Hollywood. Greg pulls Tommy aside to tell him that he's been treating his staff like garbage. Tommy retorts that some of the best directors would mistreat their actors, referencing how Alfred Hitchcock would throw real birds at his actors to get them in character. Greg stresses that Hitchcock was a jerk for doing so, but it's hard to deny Tommy's logic considering how prolific The Birds became. It's this rocky road to fame that leads Tommy to believe he is doing the right thing when everyone seems to be against him for all the right reasons.
James Franco melts into this role almost seamlessly putting on the act of the aloof Wiseau. He embodies the voice and mannerisms so well that there's a natural grace to his comedy as opposed to punching up the portrayal for laughs. Tommy can make audiences crack up with little more than his accent passively making jabs, and James hits all the right beats to make every with Tommy a real treat. Dave Franco is also in top form as Tommy's right-hand man with an awkward eyebrow raising higher as he squirms in the passenger seat of this wild ride. He encourages and pushes Tommy to keep at it, but will still find himself being betrayed out of the director's jealousy and ego. We feel for Greg as he starts to see the real monster his roommate indeed is when it comes to snatching those dreams they always talked about.
The Disaster Artist is a great comedy not merely for laughing at Wiseau's failure of a film, but also his appreciation of what he has truly made. At the premiere screening for The Room, he's dismayed to see so many people laughing at what he considered drama until Greg points out how happy it made others. It's a remarkable legacy for a filmmaker who bought his way into being a movie star and came out as something he never expected. He would attend sold-out screenings where he'd sign autographs, toss around a football and embrace the comedic fame made possible by lovers of bad movies. James Franco's direction and portrayal of Wiseau is stellar not so much because we pity the man but that we celebrate his insane vision and the wild ride it took for him to become an icon. Wiseau doesn't need our sympathy; he already has our attention from his presence, our money from his sold-out shows and our laughs from his timing and acting. What more could an egotistical filmmaker with dreams of stardom want?
As a bonus, the film's pre-credit sequence features a side-by-side comparison of actual footage from The Room versus the scenes that were staged for The Disaster Artist. The timing and camera angles are unfathomably accurate, and these sequences serve as the most magnificent tribute for having the Franco brother star in a remake of Wiseau's film. I don't think ever laughed as hard at The Room before, viewed here in a weird stereo vision. And just in case you weren't already rolling on the floor laughing, the post-credit scene features Wiseau himself as a different character who comments on Franco's voice, making for one of the best cameos and laughs I've had all year.