A big mistake was made with The Greatest Showman in how the posters came billed with music by the lyricists of La La Land, last year's musical Oscar-contender. The excellent use of jazz and classic Hollywood dance numbers gave La La Land a splash of original energy and wonder. By comparison, The Greatest Showman is a mere fizzle of that talent with music better suited for the radio than your collection. Strangely, it's fitting for the selling of a biopic on P.T. Barnum, a man that made a professional living out huckstering and placing butts in seats.
Hugh Jackman plays Barnum with a giddy smile and adventurous spirit. He's inspired early in his life to make a name for himself, desiring to be a big success in the eyes of his lovely wife Charity (Michelle Williams) and her snobbish wealthy parents. Sure, he brought about two beautiful little girls, but it's not enough; not when he loses his job and needs the money. Through his brand of slick-talking and fast-fingers, he opens up a museum of oddities. Only a mind so imaginative could conceive something so weird. And when the public doesn't warm up to his strange doodads and taxidermied animals, he gets even weirder to bring himself out of debt.
It isn't long before his museum turns into a show, starring the most unlikely of attractions. Figures big and small, hairy and scaly, colorful and colorless, are all hired on as entertainers for his grand show. They're naturally hesitant to perform; Lettie Lutz (
Keala Settle
) is shy about others looking more at her beard than hearing her voice and Charles Stratton (
Sam Humphrey
) doesn't feel like being a spectacle as a dwarf. But with some more of that Barnum negotiating, he'll get Lettie belting out tunes and Charles in a General outfit while riding around the ring. His exploits will reach further to hire playwright Phillip Carlyle (
Zac Efron
) as his partner and famous singer Jenny Lind (
Rebecca Ferguson
) as a traveling act. And the circus only gets crazier with public opposition, dissension in the ranks, and problems at homes.
A story so chaotic and astonishing as Barnum's could be wonderfully weird but director Michael Gracey takes a surprisingly timid take to hit that PG rating. He manages to avoid the most bitter of drama in Barnum's clouded actions for fame by loading the film up with so much. Aspects such as his wife's unease of his decisions, his daughters disapproving of his status, and Barnum's desires to be one-up his father-in-law is diced up with the antics of the show. Okay, then let's get into the characters of the show. There's plenty to explore with Lettie coming into her own as a confident singer and the trapeze artist Anne Wheeler (Zendaya) forming a romance with Carlyle. But like a circus with too many acts, I never felt like I had gotten more than the necessary theatrics, leaving me eager for certain performances to come back to the stage. The film is expediently cut that you won't have time to appreciate much in its bouncy jumps from scene to scene.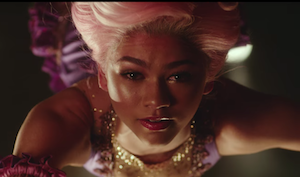 Despite the incredible vocal talents and superb choreography, most of the songs are not all that memorable. This is mostly the fault of its style which comes in the form of a contemporary Broadway, music that is meant more for volume and pulse than style and distinction. Jenny Lind sang some fantastic opera in real life but the movie swaps that for what sounds like a pop idol, fitting with the film's modernizing tone. It's a style built for Broadway and radio play, but when a soundtrack feels more built than crafted, it's nothing worth downloading immediately.
There's a part of me that wants to buy into the Barnum cavalcade of amazement, treating his life as a musical journey of excitement and playfulness. And yet there's a part that knows I'm being deceived when the drama comes so easy, the songs so ho-hum, and the story so sporadic in its mad dash editing. It's a film that indeed moves and never fails to deliver on the song, and dance one has come to expect with musicals, but the expectations are what kept holding the film back. I could see the obligatory moment coming where Barnum's troupe try to pull him out of his bottle with a song and took this as an opportunity to step out for the restroom. I returned to, as I expected, the troupe dancing on bar tables as Barnum's spirit lifts. I wish I had trusted my instincts enough to duck out for popcorn when the Barnum museum burns down, and the oddity collective repeats the process.