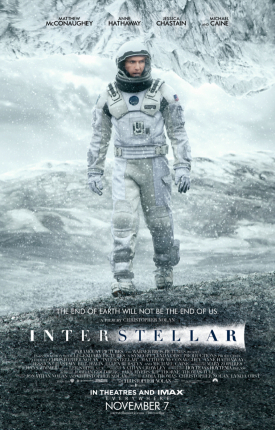 Mathew McConaughey is the eternal optimist. From guilty pleasures like Sahara and Fool's Gold or the summer blockbuster Tropic Thunder and even to his academy Award-winning role in Dallas Buyers Club, Mathew McConaughey is the kind of guy on screen (and off) who never gives up – not for a second.
McConaughey brings the same tenacity to his character in Interstellar so we're going to say this even if you aren't a McConaughey fan per se – If you haven't seen Interstellar yet, don't wait another day. Be sure to plan for a three hour outing (stock up on snacks) and pay very close attention to the plot.
This is a story that weaves through time, space and dimensions and can leave you feeling a little overwhelmed if you're not sure what's going on.
You seen movies like this before – think the mind bending plot off Inception. It's one of the best visual experiences of the year and one of the best films you'll see, even if the plot resorts to some long-winded sentimentality at times.
Interstellar as a film is incredibly ambitious, to be sure, even when the main story line leaves you thinking that you've "seen this before." In fact, you might have already seen Matthew McConaughey in a similar father-daughter conflict plot line back in Contact (1997) , you've seen some similar humanistic-survival elements at work in Gravity (2013).
The story takes you through generations as a team of explorers travel through a wormhole to  in an effort find habitable planet that will sustain human life.
Earth's ability to sustain the human race has been been slowly declining and climate change is bringing dust bowls and famine to formerly fertile areas of the world.
When things being to look hopeless for the next generation a rip in the space-time continuum is discovered and 'Coop' (played by McConaughey) is recruited to lead a life saving mission.
Interstellar is directed by Christopher Nolan (Inception, The Dark Knight) and stars Matthew McConaughey, Anne Hathaway, Michael Caine and Jessica Chastain.
Interstellar
MovieSpoon.com